'Economic emergency' faced, Ed Miliband tells voters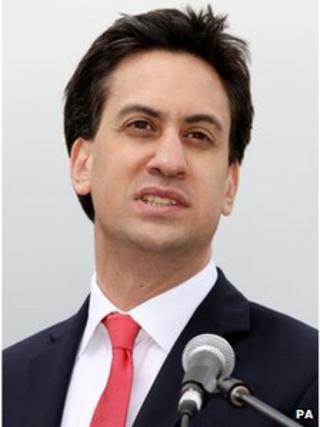 The country faces a genuine economic emergency, Labour leader Ed Miliband has told a panel of voters in Manchester ahead of his party's conference.
Arguing Labour is "on your side", he highlighted policies for fairer energy bills and pension charges.
Meanwhile, a Conservative Party poll suggests most Labour voters do not view Mr Miliband as prime ministerial.
Labour said the survey showed the Tories were "utterly desperate".
Spending cuts
In an informal question-and-answer session with voters on Saturday afternoon, Mr Miliband unveiled consumer-friendly policies, including a "strict cap" on pension management fees.
He said millions of people were putting money aside for pensions but finding that there was less in the pot than they expected. He also proposed a more powerful energy regulator to ensure fairer prices.
Mr Miliband said a Labour government would not be able to reverse all cuts in public spending.
"I think we face a genuine economic emergency because we're at risk of a whole decade of people's living standards not going up," he said.
But he continued: "I think we can overcome these challenges with the right spirit and the right policies - the spirit that Britain's had when it's overcome it's greatest challenges.
"It's the spirit, the determination, the sense of a common purpose, a shared mission that Britain has had.
"I think back to what I know about the Second World War and the period after the war when the people of Britain came together, facing those huge challenges.
"And they came together with that sense of determination, that sense of spirit, that sense of common purpose. Now, of course, the challenges are different than they were then but we do have this in common - we need to rebuild our country."
Mr Miliband said he wanted to see every pensioner over the age of 75 pay the lowest energy tariff available by law.
He said a new energy regulator would be able to force companies to pass on wholesale price cuts to consumers.
On pensions, he said: "There will be lots of people in this room who are doing the right thing, who are putting money aside. Then people find, when they retire, they're not getting what they expected in their pension because hidden charges that they didn't expect - sometimes as much as 50% of the amount they've actually put in.
"Some people will say there's nothing you can do about it - I say you can change it."
Buoyant mood
The Labour Party conference slogan is "Rebuilding Britain".
The Labour leadership - and many of the party's activists - head to Manchester in a relatively buoyant mood for the conference starting on Sunday, said BBC political correspondent Chris Mason.
"They are confident Ed Miliband has now won the right to be listened to. And they're more confident than ever that what they see as the coalition's weak spots are being exposed," said our correspondent.
Meanwhile, the Conservative Party has released the findings of the poll it commissioned from Populus, that surveyed online more than 2,000 voters between 26 and 28 September.
Some 65% of those who said they were Labour supporters thought Mr Miliband's brother David, a former foreign secretary, would be a better leader.
Almost three-quarters (73%) of those questioned thought Mr Miliband did not have what it took to be prime minister in tough economic times, while almost as many (72%) saw him as too weak to be a credible leader.
But 66% of Labour voters thought Mr Miliband was "willing to take tough but unpopular decisions".
A Conservative Party spokesman said: "This poll shows that Ed Miliband has got serious questions over his leadership. He has got a lot of work to do with the British people to persuade them that he is ready to be prime minister."