Miliband aims to win back swing voters in East Midlands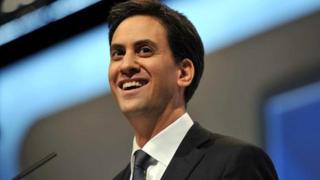 If Ed Miliband is to become Prime Minister after the next general election, he needs to win in the East Midlands.
Loughborough is one of those battleground constituencies, where Labour lost on a sizeable swing to the Conservatives two years ago.
But are the voters ready to swing back yet to a Labour Party, led by Ed Miliband?
In the town's market place, the reaction I found from most people towards him was curiosity.
Reality check
"We don't hear much about him or from him," said one man.
And here's another reality check for Ed Miliband from this marginal seat.
In a council by-election in Loughborough a few weeks ago, the Liberal Democrat vote collapsed.
But it was the Conservatives who took the seat off Labour, with a majority of 22.
So when I interviewed Ed Miliband for the Sunday Politics, I asked him: "How does Labour win back the East Midlands?"
"We've got to show people we can rebuild the economy in a way that'll work for the people of the East Midlands, not just the rich people in our society," he told me.
The East Midlands retains successful, big, global manufacturers, such Rolls Royce, train makers Bombardier and Toyota.
But it's the small and medium sized businesses that are the bedrock of the region's economy.
What's Labour's message for them?
At this point, the Labour leader has a swipe at the bankers... and speaks up for the young jobless.
"When small businesses go to their local bank, they want to know it's working for them and not part of some casino operation.
"We are ready to stand up to powerful interests for small businesses and people across the country.
"There are shocking figures on long term youth unemployment. It's more than doubled in the East Midlands in the last year. We must get them back to work."
Rules rethink?
During my interview in the Labour leader's parliamentary office, I was struck by his forceful comments about the rules for candidates standing as new Police and Crime Commissioners.
Alan Charles is Labour's candidate to be Derbyshire's Police and Crime Commissioner. As a teenager, he got into trouble with the police. That almost ruled him out as a candidate.
Also Labour's initial candidate for Lincolnshire, Phil Dilkes, decided to stand down after - like Alan Charles - he revealed an offence committed as a juvenile.
Ed Miliband told me the rules covering candidates seeking election as police commissioners need changing.
"I think people will think it's rough justice. If you commit a very, very serious offence - and, of course, all criminal offences are serious - people would say you can't be a police commissioner candidate.
"The rules are the rules, and we accept those rules.
"But after these elections, we are going to look at them."
That's for later.
For now, up to polling day on 15 November, the candidates wanting to run our local police will be attempting to raise not only their profile but that of this new powerful, political role.
In the meantime, it's back to the conference season.
Ed Miliband will hope it raises his profile.
If he starts to win over the swing voters of Loughborough, we may have to think of him as our next Prime Minister.