Andrew Mitchell: Police row 'blown out of proportion'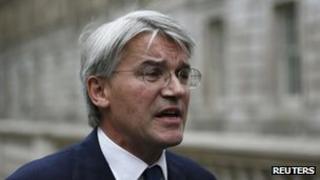 Andrew Mitchell says the row over his spat with police officers in Downing Street has been "blown out of all proportion" by the media.
The chief whip admits being disrespectful to officers but denies swearing and calling police "plebs".
He told the Sutton Coldfield Observer: "I have apologised and I hope it's possible to draw a line under it."
His comments came as the Police Federation staged a fresh protest against cuts outside Downing Street.
Mr Mitchell is said to have lost his temper with officers when they told him he could not take his bike through the main Downing Street gates.
'Hideous caricature'
But he denies using the word "pleb" that was attributed to him in the official police log of the incident.
He added: "Most people who know me know I would not use words like pleb or moron in describing anyone.
"I would gently point out that I did not say the words that have been ascribed to me."
In the front-page interview with his local newspaper, Mr Mitchell repeated his initial apology but admitted he "did not treat police with the respect they deserve".
He told the newspaper he had an "excellent relationship" with the police and regularly visited the local police station.
"I hope my constituents and friends in Sutton Coldfield will not recognise the hideous caricature that has been portrayed in some of the tabloid press," he said.
The female officer in Downing Street who made the official report of the incident said she had warned Mr Mitchell that if he had continued to swear, she would have had no option but to arrest him under the Public Order Act - a stance backed by London Mayor Boris Johnson.
'Take responsibility'
The government has ruled out an investigation into the row, but Labour has accused it of a "cover-up".
Reacting to Mr Mitchell's latest comments, shadow Cabinet Office minister Michael Dugher said: "Andrew Mitchell still doesn't get it. He still wants to blame everyone but himself for his own behaviour.
"He is still questioning the integrity of a police officer instead of fessing up to what he actually said and apologising properly.
"He needs to stop feeling sorry for himself, he should take some responsibility, show some humility - and start showing some respect to the people he obviously thinks are beneath him."
The Police Federation - the union that represents rank-and-file officers - has launched an Andrew Mitchell-themed protest campaign over budget cuts.
Officers wearing "PC Pleb" T-shirts outside Mr Mitchell's Sutton Coldfield Constituency offices earlier this week and on Friday the federation drove two advertising vans past the gates of Downing Street, with the slogan: "Police cuts not affecting the front line? Mr Cameron, Are You Taking the P?".