Tennis before Obama? No 10 puzzled by Cameron snub claim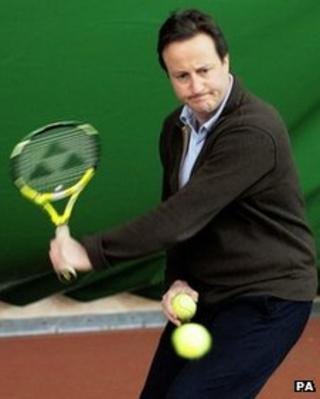 A Downing Street source has said officials are "scratching their heads" over claims that the PM once told President Barack Obama he would phone back because he was playing tennis.
Prime Minister David Cameron's friend Charlie Brooks said they were in the middle of a game at Chequers when the US president phoned.
The PM opted to reject the call and play the third set, Mr Brooks claimed.
But officials have said they cannot find any record of the incident.
Mr Brooks - a racehorse trainer who is married to the former Sun editor and News International chief executive Rebekah Brooks - was at Eton school with the prime minister.
He told the Racing Post: "I played tennis with him at Chequers one day. I won the first set easily, then he won the second set, and then someone came up to him and said, 'Er, Mr Obama is on the phone for you, prime minister.'
"I thought, 'OK, we'll have to leave it there.' But he said, 'I think we've got time for a third set - tell Mr Obama I'll ring him back.' He obviously thought he had me on the ropes. And I beat him two sets to one."
The source said officials are bemused by Mr Brooks' remarks. They have checked their records and said Charlie Brooks has visited the prime minister's country retreat three times since the general election, and on one occasion he had played tennis with David Cameron.
Advance bookings
They have also checked the log for calls between President Obama and Mr Cameron - which show no overlap with Mr Brooks' visit. Pressed as to whether the president had ever called on the same day as Charlie Brooks was at Chequers, I was told no.
The No 10 source added that the president of the United States didn't ring up the prime minister on a whim - when he might be in the bath or whatever. Calls between the two men were set up by their offices in advance, sometimes even days in advance, the source said.
Damian McBride, who worked as a spin doctor for Gordon Brown in Downing Street, has tweeted: "I'm guessing Obama wasn't really on the phone and that's just the pre agreed 'out' the clerks always give Cam once a meeting has run an hour."
Charlie Brooks and his wife have been charged with conspiracy to pervert the course of justice in relation to the News of the World phone-hacking inquiry.