Ed Miliband: Let churches stage same-sex weddings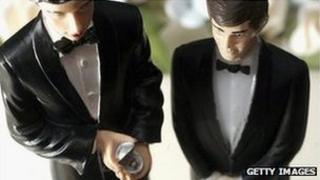 Plans to allow same sex marriages in England and Wales should be extended to religious institutions, Labour leader Ed Miliband has said.
He said faith groups who "want to provide that opportunity for gay couples... should be able to do so".
Ministers are consulting on allowing civil marriages for same-sex couples.
Leading Churches oppose calling gay partnership ceremonies marriages, saying they could undermine the status of marriage.
In a video for the Out4Marriage campaign Mr Miliband said: "I think, whether you are gay or straight, you should be able to signify your commitment, your love with the term marriage.
"We will be pushing the government to get on with the process for legislating for equal marriage, and we'll also be saying to them, where faith groups want to provide that opportunity for gay couples as well as straight couples, they should be able to do so.
"We've come a long way on gay and lesbian rights in the last two decades - civil partnerships, age of consent, a range of other things - but I know there's further to go."
Benjamin Cohen, of Out4Marriage, said: "There are many gay couples of faith and there are many faith groups that embrace gay people and so it's only right for faith groups that wish to conduct same-sex marriages to be allowed to do so under law."
The Scottish Government has said it intends to legislate for both civil and religious marriages for same-sex couples in Scotland.
The proposals for England and Wales do not include religious marriages.
Responding to the consultation on the English plans in June, the Church of England said allowing same-sex marriages would "alter the intrinsic nature of marriage as the union of a man and a woman, as enshrined in human institutions throughout history".
A spokesman for the Roman Catholic Church in Scotland said in July that plans for gay marriage were "a dangerous social experiment on a massive scale". The Church of Scotland also opposes the Holyrood government's plans.
The Home Office has said religious bodies would not have to conduct gay marriages but the Church fears this could be challenged in European courts.
Civil partnerships were introduced in 2005 to give same-sex couples the same legal rights as married couples, but the law does not allow such unions to be referred to as marriages.
The Church of England says the duty of Anglican clergy to perform marriages for any parishioner who wanted one might have to end, undermining its role as the established Church.