Cameron loses patience with UN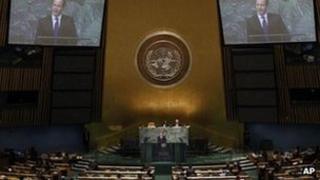 Today David Cameron finally lost patience with the United Nations.
For months the Security Council has been divided on Syria, with Russia and China repeatedly refusing to agree resolutions condemning the Assad regime.
So the prime minister came to the UN General Assembly in New York with a blunt message: If the UN were to have any value in the 21st century, it has to act now to encourage political transition in Damascus.
He cited a report from the charity Save the Children which claimed schools were being used as torture centres and children used for target practice.
The blood of these young children, he said, was a terrible stain on the reputation of the UN.
And in a pointed reference to Moscow and Beijing, he said it was a stain too on those who had aided and abetted assad's reign of terror.
Tough words. But, and here is the crucial point, Mr Cameron offered no new solution to break the impasse. And few diplomats here see one on the horizon.
So what was the point of Mr Cameron's cri de coeur?
Officials say there are times to hold back but there are also times to ratchet up the pressure.
The only problem is that pressure has been applied before on China and Russia before and it has changed nothing.
Moscow and Beijing feel they were duped into supporting strong military action over Libya and a reluctant to get reinvolved in another bout of regime change.
So in the face of this, Mr Cameron's plea was more practical. He urged world leaders not to turn a deaf ear on the suffering in Syria and promised another £7m in humanitarian aid.
A help, no doubt, but no solution.