Nick Clegg's sticking to Plan A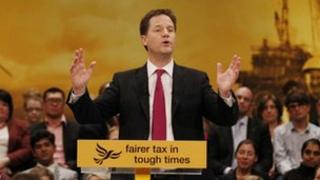 If you think you know what Lib Dems look like, Nick Clegg wants you to think again.
He wants you to see them not as a party of nice, worthy, unthreatening people who "want to stop the world and get off" but as a party that looks and sounds like a party of power - a party that matters enough to make people angry.
The Liberal Democrats came to this conference fearing that Clegg's alliance with David Cameron could doom them to electoral disaster.
He came to tell them that they - and the country - were on a journey to a better place "from the comforts of opposition to the hard realities of government, from the sacrifices of austerity to the rewards of shared prosperity".
The coalition, he said, faced a gargantuan task of building a new economy from the rubble of the old.
There, as a symbol it could be done, was 81-year-old Maurice Reeves, the man whose family furniture shop was reduced to ashes in last Summer's riots and who this year re-opened it.
After days of highlighting the Liberal Democrats' differences with the Conservatives, the deputy prime minister highlighted that they were in lock-step on the economy - backing a Plan A which he insisted was more flexible, more pro-growth than its critics accepted.
In other words politically, as well as economically, he's sticking to Plan A. If it fails he's in trouble. So's his party. And so is everybody else.