Analysis: Nick Clegg's message to the Liberal Democrats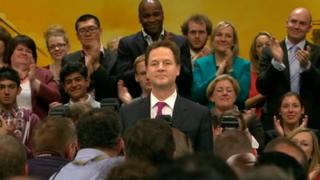 Dizzee Rascal plays Brighton soon. He'll perform to a no doubt packed house in a few weeks time. His song 'Bonkers' is sure to feature. But before one of the biggest names in UK rap it was the turn of another chart topping (?) star to perform.
Nick Clegg's 37-minute speech didn't include a bonkers moment, but he did tell the Liberal Democrats they'd be mad to turn back.
Resist the temptation to ditch the coalition he implored (and while you're listening, me too, he might as well have said).
He admitted they were facing "vitriol and abuse" for going into government with the Conservatives.
But the nub of his message was: stick it out, it will be worth it. They were on a "journey", it will be neither easy nor quick he said.
If they can go the distance, and prove they are right about how to rescue the UK economy, Nick Clegg thinks the Liberal Democrats could be back in power next time round. The prize is another coalition.
The deputy prime minister touched on familiar but nonetheless essential themes; in a raised voice he reminded people of the deficit inherited from the last Labour government. He attacked Ed Balls and what he called Labour's "fantasy world" economic policy.
He emphasised that the government was sticking to Plan A. "I stand by the package," he said. He praised the party for rejecting calls to change course earlier in the week.
He attacked his Conservative partners over the environment. There was a "naturalist phase" at Tory HQ he said, when the "windmills were gently turning", but then he trounced it as a PR exercise.
To the climate sceptics around the cabinet table Nick Clegg said: "Going green means going for growth."
On education - a central plank in his social mobility mission - the Liberal Democrat leader urged us all to think of every child as our own. To share the desire a parent has to "protect them, to help them every step of the way".
Words about children at school made up almost a page of the address. It was notable that the only spending announcement in the speech was new money for younger pupils who've struggled in basic subjects.
Then came a promise on tax: no more cuts. With the top rate down to 45%, he said there would be no further reductions in this Parliament. That has never been said, categorically, in public.
That was his defence against claims from some critics that the Liberal Democrats have gone native and are simply an adjunct to those tax-cutting Tories he is accused of being turbo-charged right wingers.
'Clarion call'
A final thought in the speech touched on trust, an issue that has dogged Nick Clegg since he ditched his party's pledge not to increase tuition fees.
Being in government "hasn't always been easy" he told the conference, but "we've stuck to our task - and to the Coalition Agreement - even as others have wavered".
This conference started with a big sorry, which has gone viral, satirical style. The Clegg reminder about sticking to the Agreement (*not on plans for boundary changes though) is part of that process of trying to rebuild trust.
At no point in the 37 minute speech did the party leader refer to his leadership.
Brighton has read about Ed Davey's ambitions and Vince Cable's credentials but Nick Clegg knows there is no genuine bid to challenge him. There is no viable alternative candidate at the moment. That's why the speech was partly a call to the faithful to keep the faith.
The hundreds in the hall, and in particular the select group behind the deputy prime minister - in full view of the camera's - clapped on numerous occasions, 23 times in all (by my count). They nodded in approval. They laughed at a Boris Johnson gag.
They cheered at the news that former leader Paddy Ashdown will front the party's general election campaign team. And of course they took to their feet at the end as Mr and Mrs Clegg exited stage left.
He wants them to head back to their constituencies and prepare for the 2015 general election. Picture yourself on the doorstep, imagine talking to someone who hasn't decided how to vote, he said. Prepare for government. Prepare to be kingmakers, again.
But as the winter nights begin to bite and the opinion polls show little sign of sunny times ahead, that was a clarion call that some leaving the seaside may find hard to embrace.