Boris Johnson 'glad to see' Andrew Mitchell nearly arrested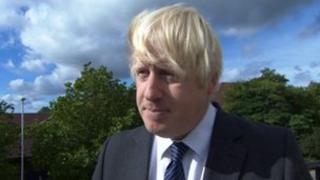 Boris Johnson has said he was "very glad to see" Chief Whip Andrew Mitchell was warned he might be arrested during his row with police in Downing Street.
The London Mayor said it was "wholly right" officers, according to a police log printed by the Daily Telegraph, were close to arresting Mr Mitchell.
But, he added, the "crucial thing" now was that Mr Mitchell had apologised a number of times for his outburst.
The government has ruled out an investigation into the row.
The BBC's deputy political editor, James Landale, said Prime Minsiter David Cameron was continuing to stand by Mr Mitchell after reading the full police note of his outburst at officers in Downing Street.
Mr Landale said sources had confirmed that the first time Mr Cameron read the police account was when it was published in The Daily Telegraph.
But they said this did not change the situation and Mr Cameron, who is currently on a trip to the United States, continued to stand by his minister.
The police log, written shortly after the incident on Wednesday, details Mr Mitchell's outburst after he was asked to get off his bicycle and use a small pedestrian gate rather than the main gate.
It suggests he used a number of expletives after which Mr Mitchell was warned he would be arrested if he continued to swear.
'Discretion'
Mr Johnson told BBC London: "I'm very glad to see that it was proposed that the officer should arrest him.
"There's something in the log book this morning that explains he was on the verge of being arrested. I think that's wholly right.
"Under the Public Order Act they (the police) have the powers to arrest you if you are using foul language if you are being abusive, quite right too."
Mr Mitchell has apologised for not showing the police enough respect but maintains that he "did not use the words attributed to me".
He has also offered an apology directly to the officer involved, which has been accepted.
'Gravity'
Mr Johnson, who has previously called for those who swear at police to be arrested, said: "In my book you shouldn't abuse police officers and I've made that clear loads of times.
"The crucial thing for me is that Andrew Mitchell has now apologised not just once but twice.
"He's also apologised to the police officer concerned and that underscores how wrong it is for any us to abuse police officers."
"The public order act does allow for police officers' discretion in this matter. They've obviously decided not to go ahead with it.
"But it shows the gravity of this offence."
The Cabinet Secretary has ruled out an official inquiry but the Police Federation and Labour are both calling for a parliamentary investigation.
The BBC has been told that Mr Mitchell tried to go through the vehicle gate at Downing Street on his bike the day after his altercation with the police.
Mr Mitchell is understood to have been trying to get into Downing Street at the time.
He was told to use the passenger entrance and there is no suggestion any altercation ensued.