Lib Dem conference: Time for Nick Clegg to quit?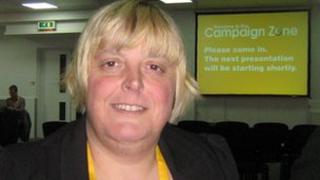 Nick Clegg is getting used to making leader's speeches to the Liberal Democrat party conference.
Wednesday's keynote address will be his fifth stab at the annual ritual of rousing the party faithful while trying to get his message out of the auditorium and into the nation's living rooms.
His predecessor Sir Menzies Campbell only got two gos at it.
But one party member says he offers - in a roundabout sort of a way - a useful lesson about how to take on your critics and win over your doubters.
In 2006, Sir Menzies told people questioning his longevity in the job the "previous Ming dynasty lasted 276 years".
Less than 18 months later he was gone.
Philip Goldenberg, a Lib Dem party member from Woking, believes this episode demonstrates why leaders should never offer hostages to fortune or dwell on subjects that their enemies want them to.
'Sharp elbows'
He thinks it is the "wrong time and place" for Nick Clegg to be defending his own leadership.
"I think he should not focus on it. I think it would be a great mistake. I don't think there is any mood in the party to challenge him."
While Mr Clegg may have got too close to his Tory colleagues early in the coalition's life, Mr Goldenberg believes he has the "sharp elbows" to fight for Lib Dem priorities in government and differentiate his party in the public's eyes.
"Nick has learnt on the job. I don't think that is a discredit to anybody. It is a whole set of new experiences."
Neville Hunnings, from Leicester, also urges Mr Clegg against making any "dramatic" stand over his leadership and believes his actions in government should speak for themselves.
"He has been a very effective leader in the coalition. He shores up his position by staking out the party's distinctive position on issues. That is what we want and that is what we respond to.
"We do not respond to macho posturing."
While it is hard to find anyone prepared to say Nick Clegg should quit, there are those who believe he needs to raise his game - particularly when it comes to trumpeting the party's achievements.
Jackie Pearcey, a councillor in Manchester, says the mea culpas should end with Mr Clegg's now infamous apology over the party's pre-election tuition fees pledge.
"I don't think you are going to get very far by saying 'I am a bit c**p, forgive me'," she says. "That's not going to get you anywhere.
"He should be going out guns blazing about our record."
'Shape up or ship out'
She believes her party has been "very good at getting things done in government but spectacularly bad at telling people what we have done and why we have done it".
Mr Clegg needs some wise old heads around him, she suggests, including people with experience in local government, to help him avoid unnecessary pitfalls and improve at publicising Lib Dem "wins" over the Conservatives.
"When it comes to communicating his message, I fear at some point in the next year or so he is either going to have to shape up - which I hope he does - or ship out."
Many activists hanker to see more of the natural, engaging communicator who shone in the 2010 leaders' debates and triggered the brief bout of "Cleggmania".
Although it was widely derided, Kris Castle believes the tuition fees apology and the spoof video that it spawned may have helped show a more "human" side to the Lib Dem leader.
"The way he chose to handle that, you almost got a little sense back of what it was like after the first debate, that the general public got a measure of what he is like as a person," she says.
The Yeovil councillor admits she and her friends have been openly discussing Mr Clegg's future this week.
But she concludes: "If you looked for somebody else, who would you pick and why would you pick them? What we came back to is one of the strengths Nick has got is he has been there and done it.
"I don't see there being a viable alternative."