Andrew Mitchell row: Police log details 'plebs' comment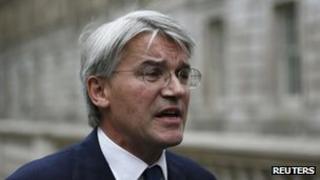 The official police log of a confrontation between the chief whip and officers in Downing Street has been published in full for the first time.
The document, printed by the Daily Telegraph, appears to confirm Andrew Mitchell called the officers "plebs", something he has not admitted to.
The Met says it will probe how the media got hold of the records.
The government has ruled out an investigation into the row, but Labour accused them of a "cover-up".
And Lib Dem cabinet minister Danny Alexander, who called for a "line to be drawn under the issue" on Monday, has just begun his keynote conference speech with the words "fellow plebs".
The issue has continued to dominate the political agenda despite Cabinet Secretary Sir Jeremy Heywood saying that no further inquiry was needed because Mr Mitchell had apologised and Metropolitan Police Commissioner Bernard Hogan-Howe had said the officer involved did not wish to pursue the matter.
The log, written shortly after the incident on Wednesday, details Mr Mitchell's outburst after he was asked to use a small pedestrian gate rather than the main gate.
It suggests he used a number of expletives, telling the police, "you don't run this government", "learn your place", and calling the officers "plebs".
'Visibly shocked'
According to the note, members of the public looking on were "visibly shocked", and Mr Mitchell was warned he would be arrested under the Public Order Act if he continued to swear.
"Mr Mitchell was then silent and left saying 'you haven't heard the last of this' as he cycled off," the document says.
The publication of the details follows Mr Mitchell's apology on Monday, in which he told reporters he was sorry for not having shown enough respect to the police.
However, he maintained that he "did not use the words attributed to me".
He said the incident had come at the end of a "long and extremely frustrating day" and he wanted to "draw a line" under the row.
David Cameron has backed his minister but the Police Federation and Labour have both called for a parliamentary investigation.
Shadow home secretary Yvette Cooper said it looked like the government was trying to "cover-up" the incident.
She told ITV1's Daybreak: "You see these reports and you've got a cabinet minister not just swearing at the police but also sneering at them.
"I don't think the prime minister can just sweep this under the carpet."
John Tully, chairman of the Metropolitan Police Federation, said: "Clearly Mr Mitchell is denying using certain words, effectively now impugning the integrity of the police officers.
"I think that is very serious."