Lib Dem conference: Clegg denies plan to 'soak' the rich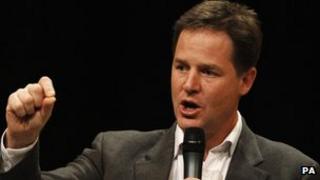 Nick Clegg has said the better-off may have to pay more tax as part of future austerity measures but denied claims he wants to "soak" the rich.
The Lib Dem leader said there needed to be a debate about future tax priorities as part of efforts to cut the deficit beyond the next general election.
Those on incomes "well above" the average should pay their "fair share", Mr Clegg told the BBC.
He refused to confirm reports he felt the top 10% of earners should pay more.
Mr Clegg said the size of the deficit inherited by the coalition government meant further savings would need to be made after the next general election, scheduled for 2015.
'Fair contribution'
"That belt-tightening exercise is going to go on longer than we had initially hoped," he told BBC Breakfast.
"I don't think anyone can duck this debate... We are going to continue to have to find savings. How do we that fairly?"
Mr Clegg said he was not driven by the "politics of envy" but believed those with the "broadest shoulders" should pay more.
There were "numerous ways" of doing this, he added, highlighting measures already taken by the coalition to raise capital gains tax and stamp duty on high-value homes.
The Daily Mail has suggested that Mr Clegg believed the top 10% of earners could be targeted in future.
Asked whether we was telling those earning more than £50,000 to brace themselves for tax rises, Mr Clegg said the Mail did "not have its finger on the pulse" of Lib Dem thinking.
"Clearly those who are well above the incomes of the vast, vast majority of people in this country should, as they already do in the tax system, pay their fair share.
"It is not about soaking people. It is simply making sure that the contribution is done fairly."
Labour says the government's "failed" economic policy has pushed up borrowing and the coalition, by cut the top rate of income tax from 50% to 45%, has boosted a small group of millionaires.