Andrew Mitchell row: Chief whip must explain - Clegg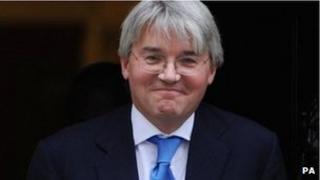 Chief Whip Andrew Mitchell should give a full account of his row with police at the gates of Downing Street, Deputy Prime Minister Nick Clegg has said.
It comes after the Sun said an official police report stated he did use the term "plebs" in an argument with a police officer.
He has denied using the word, but Mr Clegg said Mr Mitchell needed to give an explanation of the incident.
Mr Mitchell is due to give a statement at Downing Street shortly.
Mr Clegg said: "I don't know what happened, I don't think anybody knows precisely what happened and there are rival versions being circulated in the press."
"I think, therefore, it's really important that Andrew Mitchell explains fully and in detail his version of events."
Bicycle argument
The Sun claimed the police report also said Mr Mitchell did swear during the row.
The Tory chief whip has apologised to police after being prevented from cycling through the main gate last week, but denies using the word "pleb".
BBC political correspondent Carole Walker says Mr Mitchell still denies using the words attributed to him.
Friends of Mr Mitchell say the Sun is repeating accusations that had previously been made against him and his denial remains in force, our correspondent says.
The row broke out on Wednesday after Mr Mitchell was told by officers to get off his bicycle as he left Downing Street and go through the smaller pedestrian gate.
Soon afterwards, the MP for Sutton Coldfield said he did not accept "that I used any of the words that have been reported" - but did not go into specific details.
He said his apology was for failing to show officers sufficient respect.
A friend of Mr Mitchell, quoted by the Sunday Telegraph, has said the minister was frustrated by the row, and admits he "lost it a bit" but was "not accusing anyone of lying".