Lib Dem conference: What fairness agenda means to activists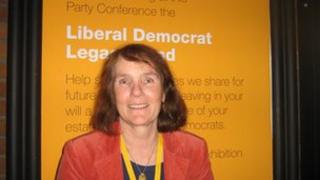 As a political slogan, it is unlikely to provoke a mass outburst of chest-beating, fist-pumping or terrace chanting.
The Lib Dems' chosen theme for their conference - "fair tax in tough times" - is prosaic and, on the surface, hard to disagree with.
The message is emblazoned across the conference floor and party literature and, if activists needed further reminding, Nick Clegg has urged his party to take the "fight for fairness" to the nation's doorsteps by delivering three million leaflets calling for a revamped tax system.
But while most will agree the UK is facing tough times, finding a consensus over what constitutes fair taxes is more tricky, as is the party's ability deliver on its objectives in such a cash-strapped time.
Mike Mackrory, a party member from Chelmsford, says the leadership is right to continually mention about the need to "redress the balance" between those at the top and bottom of society.
"You have to remind people time and time again until the penny drops," he says.
"There is no doubt about it. If you are well-off, the economic downturn does not impact on you in the same way as someone who is really struggling at the other end of the spectrum."
'Harder tone'
He was pleased to hear his leader's pledge to oppose on his "watch" any plans for a freeze in benefits, something mooted by some Tories.
"That language gets the message across much more forcefully," he adds, suggesting such assertiveness was overdue. "Some of us would like to have perhaps to have seen that more in the past.
"I detect a hardening of tone in recent times. I don't think Nick Clegg realises, or perhaps he has not used it to his advantage, the strength of the cards he has got to play."
Of the cards that Mr Clegg has already played, the one that grassroots activists are most proud of is the move to gradually lift the lowest paid out of income tax.
This Lib Dem-championed policy is happening in stages, with two million people set to benefit by next April.
But there are genuine concerns the advantages of paying no tax will be nullified by the impact of rising living costs, while one activist says the party must go much further, arguing that it is "grossly unfair" that anyone on the minimum wage should still be paying tax at all.
'Pounding the rich'
At the other end of the scale, there is broad support in the corridors of the Brighton Centre for a new "wealth tax" - either in the form of a levy on expensive properties - the so-called mansion tax - or a one-off raid on the assets of the super-rich.
Senior Conservatives are not keen on either so the ideas may remain rhetorical in advance of the next election.
Yet, there are voices urging greater restraint when it comes to targeting the better-off.
Tony Jebson, from North East Cambridgeshire, says it is wrong to suggest the "rich don't pay their way" - pointing out that someone earning £100,000 pays eight or nine times more than someone on an average wage.
"Let's not insult them while we are taking their money."
Labour has taunted the Lib Dems for preaching the need for fair taxes while agreeing to reduce the top rate of tax from 50% to 45%, but Mr Jebson says you have to differentiate between the well-off and the super-rich.
"The only thing that slightly sets my teeth on edge is the pounding of the rich. My view of the Lib Dems has always been there is nothing wrong with being rich but there is a lot wrong with being poor."
Welfare battle
Another battle that is looming on the horizon is the prospect of further benefit cuts in the next spending review.
Theresa Higgins, from Colchester, says it is this issue - not talk of a millionaire's homes or income tax rates - that represents the "biggest problem" for millions of people across the UK.
"All you hear is letters being sent to people who are so disabled that they are never going to be able to work, saying you now have to work."
The party, she believes, has not been talking enough about the difficulties faced by those who cannot work and are reliant on state support.
"I have a blind friend in her 50s who would dearly love a job, but no-one will employ her at the moment so she has to have something to live on... I don't think that whole aspect has been looked at with the right language."
As for Mr Clegg generally, does she think he has been fighting the party's corner hard enough in negotiations over tax and welfare?
He answer is: "I am going to be a typical Lib Dem and say 'yes and no'."