Labour Party not 'cosying up' to Lib Dems, says Harman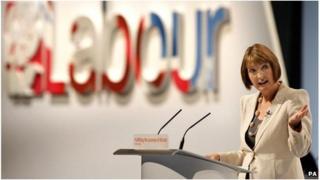 Labour Party deputy leader Harriet Harman has said there will be "no cosying up to the Lib Dems".
"No nods and winks. No political games," she said in an interview with the Independent. "No hidden agenda aiming for a future coalition".
Her spokesperson said the comments signalled Labour's aim of an outright majority at the next election.
Ms Harman said the Lib Dems had "broken promises" and were "not a brake on the Tories. They are their accomplices".
"We are not going to say the Lib Dems are a better option than the Tories. It would be misleading for voters," she said.
The BBC's Mike Sergeant said aides were insisting the Labour deputy's remarks were "not meant as a rebuke" to shadow chancellor Ed Balls, who has previously appealed to Lib Dem Business Secretary Vince Cable to work together on economic issues.
Mr Balls has said there is no way Labour could work with the current Lib Dem leader, Nick Clegg, but that he would be happy to work in coalition with Mr Cable.
It has also emerged that Labour leader Ed Miliband and Mr Cable have exchanged text messages discussing political matters.
But, in Friday's Independent, Ms Harman said: "We want everyone to be in no doubt. We have to judge people by what they have done. The Liberal Democrats have broken their promises. They are not a brake on the Tories. They are their accomplices.
"They are Cable actions as much as Clegg actions," she said. "It would not change the nature of the beast if the Lib Dems changed their leader."
'Confidence and supply'
Meanwhile, Liberal Democrat president Tim Farron has said the party could do a deal with the Conservatives or Labour after the next election.
Speaking to The House Magazine, Mr Farron said that his party shared a "progressive history" with the Labour Party, and that in 2010 "we didn't choose the Tories over them - we reacted to the arithmetic".
After the next election, he said, a "confidence and supply" arrangement might be possible, where the Lib Dems supported a minority Conservative or Labour government in budget votes and confidence motions.
In return, the Lib Dems might be able to help shape the agenda for legislation, but would not take jobs as ministers.
Mr Farron said: "I always thought 'confidence and supply' was, for this Parliament at least, not a good option because you kind of get, you know, none of the power and all the blame. I think in the future 'confidence and supply' might be an option.
"Post-2015, because we've now got fixed-term Parliaments and in a calmer economic period, then having a minority administration would be possible, entirely possible."