Civil service pay: 57 fewer top earners than a year ago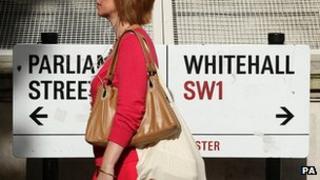 There are 57 fewer senior civil servants earning £150,000 or more a year than there were twelve months ago.
Newly published government figures show there are 234 people working in Whitehall earning £150,000 or more, down from 291 in 2011 and 372 in 2010.
The Cabinet Office said the salary bill for top-earners had been cut by 18% in the past year.
The highest-paid official was Dennis Hone, Olympic Delivery Authority boss, earning between £310,000 and £314,999.
He is the only government employee to earn more than £300,000.
However, 32 civil servants earned between £200,000 and £300,000, while 181 were paid between £150,000 and £200,000.
The Department of Health had the highest number of top-earning staff, with 42 on salaries in excess of £150,000.
This compared with 22 in the Department for Business, Innovation and Skills, 16 in the Ministry of Defence, 13 each at the Cabinet Office and the Department of Culture, Media and Sport and 11 at the Home Office.
Among the top earners across Whitehall last year were:
General Sir David Richards, Chief of the Defence Staff, on £240,000-£244,999
Sir David Nicholson, the NHS chief executive, on £265,000-£269,999
Andrew Haines, chief executive of the Civil Aviation Authority, on £260,000-£269,999
Alan Langlands, chief executive of the Higher Education Funding Council, £230,000-£234,999
The country's most senior civil servant, Cabinet Secretary Sir Jeremy Heywood, was paid between £190,000 and £194,999.
BBC political correspondent Chris Mason said four civil servants at the rank of permanent secretary or chief executive got pay rises - two in the Department of Transport, and the bosses of Her Majesty's Revenue and Customs and the Serious Fraud Office.
In contrast, 20 of those earning more than £150,000 have had pay cuts.
'Very best'
The Cabinet Office said there had been a 37% fall in the number of people working in central government earning £150,000 or more and £8.7m had been saved by cutting the bill for top earners between March 2011 and 2012.
Thursday's figures cover those working in central government and public quangos but not local authorities.
Cabinet Office minister Francis Maude said the figures enabled the public to see how their money was being spent.
"We must continue to attract the very best into public office but, unlike before, all salaries over £150,000 are now specifically approved by the Chief Secretary to the Treasury," he said.
Government adviser Lord Browne warned earlier this year that curbs on pay at the top echelons of the civil service were making it difficult to recruit "talented" staff.
While the calibre of civil servants was "generally very high", the former BP boss said there was a lack of staff with commercial skills or expertise in handling major projects.