Tory council set to defy relaxed planning rules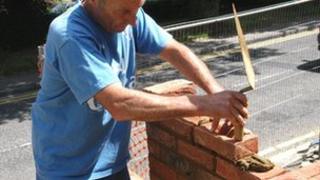 A Conservative council is set to defy the government over a relaxation of planning rules for building extensions.
The proposals, covering England and intended to boost the economy, will allow larger home and business extensions without planning permission.
But amid fears of a rash of ugly extensions, Richmond council officials in south-west London are considering ways to circumvent the policy.
Ministers said the "vast majority of councils" would approve the changes.
A month-long consultation is currently under way on the proposal to ease rules, for a three-year period, on developments including home extensions of up to 8 metres - compared with the current 3-4 metre limit on extensions without planning permission.
Alienation
Richmond council's Conservative deputy leader Geoffrey Samuel told BBC Radio 4's The World at One that the move would be "deeply unpopular" with many residents.
"This would double the size of the extension that can be built and give neighbours no opportunity whatsoever to have their say.
"Many people who live next to a neighbour who wants to extend will feel their privacy has been invaded and their human right to enjoy their own homes in peace has been infringed."
He said the council would trawl through any government guidelines "with a fine tooth comb" and look to "interpret" them in a way that would be of "greater benefit" to residents.
Unveiling the proposals earlier this month, Prime Minister David Cameron said: "This government means business in delivering plans to help people build new homes and kick-start the economy.
"We're determined to cut through the bureaucracy that holds us back. That starts with getting the planners off our backs, getting behind the businesses that have the ambition to expand and meeting the aspirations of families that want to buy or improve a home."
But, according to BBC deputy political editor James Landale, the plan "has angered many Conservative MPs and councillors who think the policy would alienate many of the party's suburban supporters if unattractive extensions sprang up across the country".
'Foolish proposals'
The BBC has learned that Richmond council has formally agreed a motion to "oppose the government's proposals to significantly extend permitted development rights".
On Tuesday evening, council leader Nick True told colleagues: "I have already asked the chief executive to consider what this council might be able to do if we are not successful in getting these, in my view, very foolish proposals changed."
Speaking on the World at One, Planning Minister Nick Boles said Richmond councillors were entitled to their views but he expected the move to be approved by the "vast majority" of councils in England.
"What we're trying to do is arrive at a better balance between the rights and interests of home owners and of their neighbours.
"I think it's right to empower people to make these improvements and it will also have an enormous benefit for local construction firms and small traders who are currently suffering."
He defended the government's commitment to localism - which he said was about giving power to people on the ground not necessarily to local councillors.
A Department for Communities and Local Government spokesman said: "The government has eased the planning restrictions and costly bureaucracy that prevents families and businesses from making improvements to their properties because it will help thousands of people move up the property ladder or expand their business without having to relocate.
"However, if there are genuine local concerns councils can withdraw permitted development rights locally using existing powers - known as article four directions - if the exercise of those planning freedoms resulted in unacceptable impacts on their community."