Norman Tebbit urges death penalty for police killers debate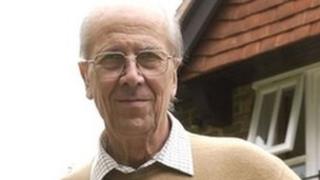 Bringing back the death penalty for those who kill police officers should be considered, Conservative peer Lord Tebbit has said.
He said he was reluctant to see the routine arming of police officers, but the "deterrent effect of the shadow of the gallows" should be reconsidered.
It follows the fatal shooting of two police officers in Greater Manchester.
Lord Tebbit has long supported a return of the death penalty in certain circumstances.
As an MP he voted a number of times to bring back capital punishment for murderers, including those who kill police officers.
'Violent criminals'
Writing on The Daily Telegraph website, he said: "The murder of two unarmed women police officers is bound to reignite the debate over whether our police officers should be armed as a matter of routine and whether there should be a return to capital punishment for limited categories of murder, such as that of a police officer, or more generally."
The former chairman of the Conservative Party rejected calls for the arming of police because it would "widen the gap which has grown between the police and the public in recent years".
But, he said, there had been "far too many killings" recently where it was impossible not to wonder if the threat of an "early dawn walk to the gallows" would have changed the actions of the perpetrator.
"The hard fact is, as violent criminals know perfectly well, a credible threat that a man will lose his life unless he complies with a demand usually results in obedience."
Lord Tebbit said concerns that such a penalty would lead to miscarriages of justice - with the innocent executed - would be mitigated by the care juries would take deliberating when they knew a person's life was at stake.
He said: "I have kept track year by year since the death penalty was suspended, then abolished, of the number of people who have been killed by persons previously convicted of homicide.
"It has averaged three people a year. About 150 people killed because their killers have been freed to kill again.
"Would our courts have sentenced to death three innocent people a year, year in year out? I doubt it.
"I think it is time we thought again about the deterrent effect of the shadow of the gallows."