Pickles fury over election poster eviction threat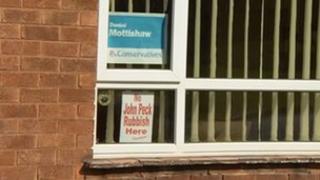 The Communities Secretary Eric Pickles has evoked the image of Mr Gradgrind and other Victorian mill owners to describe a threat of eviction to a group of council tenants.
They've been threatened with losing their homes for putting up election posters in their windows.
Here's the background...
There's a county council by-election in the village of Edwinstowe in the heart of Robin Hood country in Nottinghamshire.
Eviction threat
In my experience, residents all too often complain about not receiving enough election material from candidates.
But in this case, some locals complained of getting too much election information through their letter boxes.
They were getting leaflets, newsletters, stickers and posters from Labour candidate John Peck, their eager would-be Labour county councillor.
So Gail Benison and her neighbours decided to do something about it.
They put posters in their windows criticising what they regarded as "rubbish" from the Labour candidate.
That landed them in trouble with their council landlord.
Now Gail has received a letter from Newark and Sherwood Homes threatening eviction, unless the poster comes down.
'Intolerable' situation
"I'm very upset by the whole thing," Gail told me.
"It's not just me but all the other tenants. We are being told we can't express a political view.
"That can't be right."
Private home owners on her estate aren't affected. They can put up any political poster they like.
Tenants gathered in the kitchen of Gail's home to raise their concerns with a senior Nottinghamshire Conservative county councillor, Bruce Laughton.
"I'm going to take this up with Newark and Sherwood Council and have a row with them. It's intolerable," he said.
"Newark and Sherwood Homes have completely over reacted to this and have been very heavy handed."
Democratic rights
The local MP, Sherwood's Mark Spencer, has raised the matter in the House of Commons.
It prompted this very robust response from the Communities and Local Government Secretary, Eric Pickles.
"That seems to me to be treating tenants as some 19th Century mill owner might have treated his workers," he told MPs.
"It is entirely inappropriate that tenants should be refused their democratic right to display a poster. I urge the returning officer to look into the injustice immediately."
I understand that the chief executive of Newark and Sherwood Homes is now under some political pressure to reconsider the issue and withdraw the threat of evictions.
In a statement, the housing group said: "A tenant can display a poster, political or otherwise, in their property, as is their democratic right.
"Newark and Sherwood Homes received a number of complaints from local residents in Edwinstowe regarding the content of posters being displayed in the windows of tenants, which were causing offence to members of the community."
What caused offence to Gail Benison is an eviction threat for expressing a political view.
The poster has now been taken down. Other tenants have done the same.
They can expect more election bumph up to polling day.