Nick Clegg has transformed Lib Dems' mood, says Simon Hughes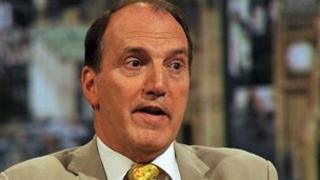 Nick Clegg has "transformed the mood" of the Liberal Democrats through his "robust" dealings with the Conservatives over the summer, deputy leader Simon Hughes has said.
The Lib Dems' annual conference, which begins in Brighton this weekend, follows recent disappointment on the key policy of House of Lords reform.
But Mr Hughes said Mr Clegg was now determined to push a "fair tax" agenda.
He added that the deputy prime minister was under no threat as party leader.
The Conservative-Lib Dem coalition has been in place since May 2010, meaning it is almost halfway through its intended life, with the next general election due in 2015.
The Lib Dems' long-cherished desire to bring in an elected House of Lords ended in disappointment over the summer, amid widespread opposition from Conservative MPs.
'Huge cloud'
In return, Mr Clegg has refused to support a redrawing of boundaries for parliamentary seats, a policy backed by the Tories.
Mr Hughes told a pre-conference briefing: "When the Tories decided to pull the plug on Lords reform, Nick robustly made clear that boundary changes would not go ahead. That lifted a huge cloud from many members around the country."
He added: "It's transformed the mood of [parliamentary] colleagues and of the party."
The Lib Dem conference will still include a debate on how Lords reform can be revisited, as well as others on subjects including a wealth tax, benefit reforms and the creation of more housing.
Mr Hughes said: "It's fair to say it's about positioning ourselves, making sure people understand what we stand for, and what should be our priority as we end the first half of the coalition and go into the second half."
Opinion polls have suggested a fall in support for the Liberal Democrats since the 2010 General Election, but Mr Hughes insisted this was a normal part of being a mid-term government and that this year's local elections had "not been good for the Tories either".
He argued that recent internal polling had shown the Lib Dems were becoming known among voters as the "fair tax party", a theme the leadership is keen to develop at the conference.
Mr Clegg and his colleagues have frequently stated the case for a "wealth tax", to go with the "mansion tax" on large houses which remains policy.
A working party has been established to look at coming up with specific policies, which Mr Hughes said would be unveiled "in about a year".
The Lib Dem conference, the first of the autumn season, runs from Saturday to Wednesday.