Greening orders review of £500m-a-year spending on aid 'experts'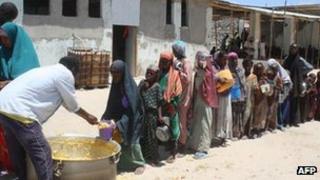 International Development Secretary Justine Greening has ordered a review of her department's annual spending of almost £500m on "technical experts".
The money goes to companies working on projects such as developing the tax system, free market and education in countries given aid.
The government promised "a close look at" the value for money achieved.
But Labour said the coalition had "massively increased" spending on experts from private firms.
Ms Greening, formerly Transport Minister, was promoted to the international development role in Prime Minister David Cameron's reshuffle earlier this month.
She replaced Andrew Mitchell, who is now the government's chief whip.
'Overhauled'
The coalition has pledged to spend 0.7% of the country's GDP on international aid, a policy controversial among many Conservative MPs, who have demanded greater scrutiny of spending.
A Department for International Development (DfID) spokesman said: "The secretary of state has asked for an internal report into the department's spend on technical experts.
"As the new international development secretary she is taking a close look at every aspect of the department's spending.
The prime minister's official spokesman added: "The government has completely overhauled its aid programme.
"Over the past two years, there has been a root-and-branch review of all our aid programmes to ensure that we are spending the money in the right way and that the money is going where it is most needed.
"We have ensured that our aid spending is more transparent than ever before. We have set up a watchdog to ensure that the money we spend gets results.
"It is not surprising that, with a new secretary of state, she wants to look closely at how the department is working and I understand that she wants to look specifically at this issue."
But, for Labour, shadow international development secretary Ivan Lewis said: "From day one in government, the Tories have instructed DfID officials to massively increase the amount of funding being spent via private companies including consultants.
"This has nothing to do with value for money and everything to do with ideology. Justine Greening's crocodile tears are sheer hypocrisy.
"Private companies have an important role to play in delivering development support. However, this should be about their specialist expertise and value for money not a rigged funding system which leads to private at all costs."