'Dick Turpin' rail firms criticised by MP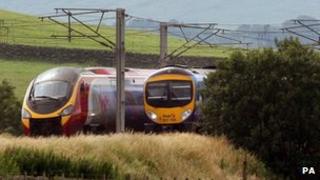 An MP has compared some train companies to latter-day "Dick Turpins" in a debate on the future of the West Coast Mainline rail franchise.
Rosie Cooper, Labour MP for West Lancashire, said some firms had won contracts on a "bogus premise" and then "taken their profits and scarpered".
The award of the West Coast contract to FirstGroup has been halted pending a legal challenge by rivals Virgin.
FirstGroup has rejected claims its £5.2bn bid is not financially viable.
Monday's parliamentary debate was triggered by an e-petition urging the government to reconsider the West Coast decision - signed by more than 170,000 people.
FirstGroup won the 15-year contract after making the highest bid but Virgin - the current operator - has claimed the contract process was faulty and launched a judicial review to try to invalidate the decision.
'Best deal'
Opening the backbench debate, Ms Cooper said she did not especially care which company ran a specific service and her priority was to get the "best deal" for rail passengers and taxpayers.
"Recent franchise experiences have shown the highest bids, the riskiest bids, are not necessarily sustainable bids," she told MPs.
"In recent years, a number of train operators have handed back the keys to the government on franchises such as the East Coast Mainline."
Invoking the name of the infamous 18th Century highway robber Dick Turpin, Ms Cooper questioned the past conduct of some rail operators.
"I believe MPs on all sides want to be sure this is not going to happen again and taxpayers have assurance they will not be held to ransom by Dick Turpin train operators asking them to stand and deliver - having secured the contract on a bogus premise, taken their profits and scarpered when it is time to deliver the promised high return."
Asked by Conservative MP Daniel Kawczynski to justify her remark, she stressed: "I think there are a lot of Dick Turpin-type figures about."
'Genuine'
Iain Stewart, a Conservative member of the Commons transport select committee, said the bid process was "rigorous" and he believed First Group's ambitions were "genuine".
"I don't believe First Group would be making this bid if it did not believe it could deliver on it," he said.
"I actually think it is healthy we have this high level of ambition and competition. That is to the benefit of all who use the railway."
For Labour, shadow transport secretary Maria Eagle said MPs should not be "siding with any particular company" but had a right to question whether "history was repeating itself" in terms of operators being unable to see through their franchises.
Many industry professionals, she claimed, were "dubious" about whether FirstGroup's bid was "viable" in terms of passenger growth and contract repayments, adding that it was "not unknown" for the Department for Transport to come under pressure from the Treasury to accept the highest bid.
Transport Minister Stephen Hammond said the government was "confident it had taken the right decision".
"The Department for Transport believes the winning bid is deliverable, provides value for money for the passenger and taxpayer and capitalises on the £9bn investment already being made on the West Coast mainline," he said.