'Discriminatory' ban on MPs with mental health issues to be axed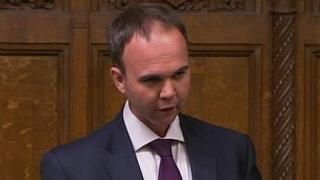 The government has backed moves to end a ban on people who have had serious mental health issues being MPs, company directors or serving on juries.
It has backed a private member's bill by Tory MP Gavin Barwell, which earlier moved a step closer to becoming law.
Currently, MPs detained under the Mental Health Act for more than six months are stripped of their seat.
But Mr Barwell told the Commons: "The current law is both discriminatory and an ass."
Mr Barwell's Mental Health (Discrimination) Bill earlier received its second reading in the House of Commons.
'Clear message'
He told MPs: "My bill's purpose is very simple: to tackle the last legal form of discrimination in our society.
"To our shame the law of the land still discriminates against those with a mental health condition.
"An MP or a company director can be removed from their job because of mental ill health even if they go on to make a full recovery.
"Many people who are fully capable of performing jury service are ineligible to do so.
"The law as it stands sends out a clear message that if someone has a mental health condition their contribution to public life is not welcome. That is an affront to a decent civilised society."
The Croydon Central MP said the disqualification law applied to MPs and members of the devolved institutions, but not to peers.
And there was also no equivalent provision for politicians who suffered a physical condition which prevented them from fulfilling their duties.
The bill will also tighten up the definition of who is ineligible for jury service in England and Wales on mental health grounds and change the model articles of association for companies - the rules setting out director's responsibilities - to remove provisions he claimed were discriminatory.
'Stigma'
The Law Society had warned that the current rules could be in breach of the United Nations Convention on the Rights of Persons with Disabilities, which has been ratified by the UK.
The bill, which has been backed by mental health charities and the Royal College of Physicians, builds on the work of Lord Stevenson of Coddenham, who launched a similar bill in the House of Lords in the previous Parliamentary session.
Deputy Prime Minister Nick Clegg said: "The government is doing a huge amount to try and remove some of the stigma surrounding mental illness, and I am delighted to be able to support this private member's bill, which addresses a problem in the House of Commons - my own workplace.
"It's ludicrous in this day and age that a person can't contribute to public life if they've had issues with their mental health.
"Discrimination like this has no place in modern society and it is right that these rules are repealed."
Labour leader Ed Miliband said it was "right" to change the law and his party was backing the bill.
"Attitudes towards mental health are changing but we still have further to go to reduce the taboo that surrounds mental health, and this is an important step towards equality.
"These changes will help to bring public understanding and attitudes towards mental health into the 21st Century," he said.