EU referendum: Cross-party campaign launched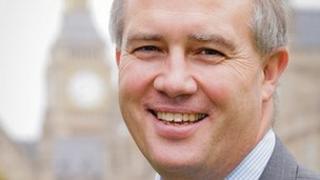 MPs from all parties are lining up to join a new group to push for an EU referendum, the Tory MP behind it said.
John Baron wants the prime minister to pass a law committing the next government to hold a referendum on Britain's relationship with the EU.
He said this would allow time for an "informed debate" and for the eurozone crisis to "play itself out".
Mr Cameron has said he would consider a referendum on the UK's EU relationship, when the time was right.
But he has so far resisted calls for legislation before the next election.
Mr Baron said he hoped his new group would "nudge" the prime minister and other party leaders in "the right direction".
"What we are trying to do is not make this a 'Eurosceptic's charter' but try to attract people from across the political spectrum," Mr Baron told BBC News.
'Electoral advantage'
The Democratic Unionist Party had told him they would sign up their nine MPs "en masse" to the new group, he said.
And he had also been contacted by Labour MPs interested in joining the group, which is due to meet for the first time on 16 October.
In June, Mr Baron handed a letter to Mr Cameron, signed by 100 Tory MPs, calling for a referendum, but he has yet to receive a reply.
He said he had discussed the issue with the prime minister in July and while they had "agreed to disagree" on it, but Mr Cameron had also promised to answer in writing.
Mr Baron believes a referendum "may be an increasingly attractive option" for the prime minister, since the Lib Dems effectively torpedoed plans for constituency boundary changes, which Conservatives had hoped would help them win more seats.
But he said there would be "real electoral advantage" for any party that committed to a referendum, given the growing support at the polls for the UK Independence Party and calls from voters on the doorstep.
He said would prefer an in/out referendum immediately but did not want to push the prime minister "into a corner" on the issue.
"Our letter was pragmatic in asking the prime minister to commit now for a referendum in the next Parliament," he said in an article for ConservativeHome.
"This would allow time for an informed debate as to the question to be asked, and for the eurozone crisis to play out.
"It would also give time for any renegotiations to take place - after all, we have been promised a repatriation of powers."
The issue had been given fresh impetus by EU President Jose Manuel Barroso who this week called for the EU to evolve into a "federation of nation-states".
"I suggest decision time for the UK is fast approaching. Perhaps the prime minister realises this too," Mr Baron told ConservativeHome.