John Bercow to delay drawing Commons pension until 65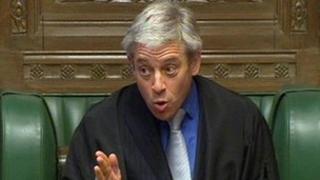 John Bercow has said he will not take his pension until he is 65, ten years later than he is entitled to.
The Commons Speaker said the state of the economy and the fact he was likely to continue working after leaving the post were factors behind his decision.
But Mr Bercow has decided to hold on to his final salary pension ahead of a change in the law which will abolish the scheme for his successors.
The prime minister and other ministers all have less generous benefits.
Mr Bercow's announcement came as the government published planned reforms to public sector pensions, including changes to the pension entitlements of the Speaker and the prime minister, designed to cut their cost by billions.
'Historical assumptions'
At the moment, the Speaker, prime minister and lord chancellor are entitled to a pension based on their final salary, regardless of their length of service.
The government intends to bring their entitlements into line with those of ministers, whose pensions are based on less generous career average earnings.
The proposed legislation, due to take affect in 2015, will only apply to future office holders, not existing incumbents.
The last Labour government agreed that all those who became prime minister and lord chancellor before the legislation was changed would also transfer to the ministerial scheme although they decided this should not apply to the Speaker.
Amid growing speculation about his intentions, Mr Bercow confirmed on Thursday he would retain his final salary pension scheme as Speaker - to which he does not contribute.
He will consequently receive an annual pension worth about £37,883, half his Speaker's £75,666 salary, when he leaves office.
But he has also said he will delay taking his pension until 2028, when he turns 65.
When he was elected to the post in 2009, the former Conservative MP said he intended to serve no more than nine years in the historic role - if he was re-elected by his constituents and by MPs.
This means that he would be entitled to receive his pension in 2018, when he is 55.
In a statement on his website, Mr Bercow - who is also entitled to an MP's pension - said the Speaker's arrangements were "atypical" and were traditionally based on two "inter-connected assumptions".
The first assumption was that the MP chosen as Speaker - historically a veteran parliamentarian - would be near or already past retirement age and often well beyond retirement age when they stepped down.
The second was that an ex-Speaker would be "highly unlikely" to seek further full-time employment or income after retirement, due to their advanced age and the specific nature of the office.
However, Mr Bercow said, in his case, these "historical assumptions did not hold".
'Appropriate advice'
As he had been elected to the historic office when he was 46, it would mean he would be entitled to take his pension "at a relatively young age" while also likely to seek to earn other outside income.
"The Speaker does not believe that this is right," the statement said.
"Having taken appropriate advice, he has therefore proposed before he leaves office to waive his entitlement to the Speaker's pension until he reaches the age of 65."
"The Speaker believes it would be wrong, especially in the current economic conditions, not to depart from the status quo in his particular circumstances."
Parliamentary officials said Mr Bercow would forgo about £370,000 by waiving the right to take his pension until he turns 65.
Mr Bercow has sought to redefine the Speaker's role, adopting a much-higher public and media profile outside Parliament and seeking to engage with other legislatures around the world.
He has divided opinion within the Commons, however, with some MPs applauding his efforts to give backbenchers more power but others criticising his performance in the Chamber.
He recently accused his critics - most of whom are Conservative MPs - of being "embittered and resentful" and refusing to accept he was elected in the first place.