TUC's Brendan Barber to get £100,000 pay-off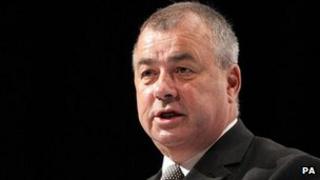 The TUC has confirmed outgoing General Secretary Brendan Barber will get a pay-off worth just over £100,000 when he stands down at the end of the year.
It is standard practice at the TUC when a General Secretary stands down for them to be paid a year's salary.
Mr Barber currently earns £100,526.
TUC President Paul Kenny said: "The established arrangements which cover the retirement... provide for the award of a year's salary upon completion of satisfactory service."
He added: "In common with all terms and conditions for the General Secretary this will be reported to the Certification Officer for inclusion in his annual report."
The pay-off is in addition to pension earned.
Earlier this week, at the TUC Congress in Brighton, Mr Barber characterised Britain as a country of "stratospheric inequality where the rich float free and the poor sink further into penury".