Lib Dems 'would consider future coalition with Labour'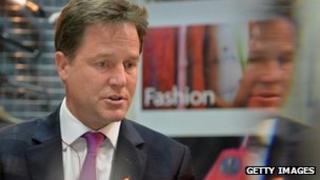 Nick Clegg has said he would consider entering into coalition talks with Labour after the next general election.
The Liberal Democrat leader told an audience in Cambridge "we will do what you, the people, tell us to do".
If a coalition between the Lib Dems and Labour was viable, "we would enter in to talks in good faith", he said.
But Nick Clegg's predecessor, Sir Menzies Campbell, has warned his party against seeking to cultivate informal links with Labour at the moment.
Labour leader Ed Miliband recently revealed that he occasionally exchanged text messages with Lib Dem Business Secretary Vince Cable, most recently on the subject of House of Lords reform.
But Sir Menzies said such disclosures gave the wrong impression about his party's commitment to the coalition with their Conservative partners.
"The success of this coalition depends upon everyone who participates in it being a full subscriber," he told the House magazine.
"I don't think it helps a partnership to suggest that you may already be looking for another partner."
Any talk of fraternization with Labour at the moment could encourage restive Conservative MPs to be less loyal to the government, he suggested.
He also said there was "no appetite" for a Lib Dem leadership contest and its MPs "who signed up in droves (to the coalition) have got to understand that there's a responsibility to see this through".
'Distrust of change'
Amid speculation about Mr Clegg's long-term future, shadow chancellor Ed Balls said recently that he and Mr Miliband could not see themselves working with the Lib Dems while Mr Clegg was leader.
Mr Balls did indicate, however, that could work with Mr Cable, who was acting Lib Dem leader before Mr Clegg's election to the post and a Labour councillor in the 1970s.
At the question and answer session in Cambridge, Mr Clegg quipped: "I make it a point of principle never to try and personalise my politics. Unless it's Ed Balls; I'm afraid I just can't resist."
Outlining his vision of UK politics as three distinct philosophical traditions, he added: "I don't buy this idea that liberalism is somehow a subset of the Labour party."
But he also distanced himself from his coalition partners. "Conservatives are slightly distrustful of change, [they] don't believe in the potential of progress," he said.
Prompting laughter from the audience, he called on voters to hand the Lib Dems an overall majority at the next general election, obviating the need to enter into coalition with either party.
"I'd much rather be prime minister," he said.
The Liberal Democrats and the Conservatives formed the UK's first coalition government in modern times, after no single party achieved a majority in the 2010 general election.