Gerald Howarth urges David Cameron to focus on defence not aid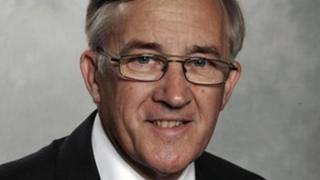 A defence minister who lost his job in last week's reshuffle has urged the PM to reverse cuts to the defence budget and stop spending more on overseas aid.
Sir Gerald Howarth said he would like to see axed defence programmes revived when economic circumstances allowed.
He also contrasted the 7% cut in defence with the rise in financial support for international development.
"I have yet to meet a Conservative who thinks we should be spending more money on overseas aid," he told the BBC.
Sir Gerald lost his job at the Ministry of Defence in Mr Cameron's government reshuffle last week, after which he was nominated for a knighthood by the prime minister.
'Higher priority'
He has now written to Mr Cameron urging him to prioritise defence in future spending decisions.
In an interview with the BBC, he said ministers regretted having to make cuts in defence programmes since they came to power but had to do so because of the "catastrophic" mess inherited from Labour.
In an "uncertain world", he said the UK must ensure it did not reduce troop numbers so far as to put unreasonable burdens on remaining personnel and "push them to the brink".
When the government's finances allowed, he said he would like to see certain capabilities reinstated, such as a long-range maritime patrol aircraft.
Asked whether he would like to see certain defence cuts reversed, he said he thought it was "essential".
"My message to the prime minister and the cabinet is to give defence a higher priority at the moment."
Sir Gerald also said the government should drop its target of spending 0.7% of national income on overseas aid - something the prime minister has said he is fully committed to.
"Personally I make it clear I have yet to meet a Conservative who thinks we should be spending more money on overseas aid and slashing our armed forces, to put it crudely," he added.
"In these straitened times, however important overseas aid is - and I accept it has an important role to play - basically we cannot afford it."