David Laws deserved second chance, David Cameron says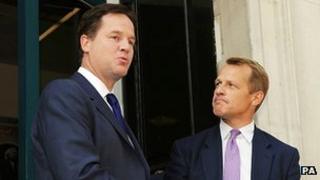 David Cameron has defended bringing David Laws back into government and allowing him to attend cabinet.
The Lib Dem MP quit the cabinet in 2010 after admitting to breaking the rules regarding expenses he claimed on a flat he shared with his male partner.
Mr Laws, who was later suspended from Parliament, said he had been motivated by a wish keep his sexuality a secret.
The prime minister told MPs that Mr Laws had accepted his mistakes and now deserved a "second chance".
Mr Laws returned to government last week as an education minister, more than two years after he had resigned as Chief Secretary to the Treasury over his expenses claims.
The Lib Dem MP for Yeovil, who is close ally of Nick Clegg and highly regarded by senior Conservatives, is being allowed to attend cabinet by David Cameron.
'Proven dishonesty'
The prime minister was challenged about the Lib Dem's return at Prime Minister's Questions by Labour backbencher Jim Dowd.
"In the previous Parliament members of either House who were shown to have deliberately found to have abused the expenses system were quite rightly forced to face the full rigour of the law," he said.
"But why is it in this Parliament the same proven dishonesty results in the restoration of ministerial office and a seat at the Cabinet table?"
Mr Cameron said Mr Laws had made it "very clear" that he had made mistakes over his expenses claims and had resigned from the government.
The prime minister added: "As I have said in relation to this in the past, I do think it is right to give someone a second chance."
Mr Laws claimed thousands of pounds in rent and bills over three years while staying in a London property owned by his male partner in breach of the rules banning such arrangements.
The Lib Dem MP said he had agreed to the arrangement because he wanted to protect his privacy and keep his sexuality a secret but also because it provided better value for money for the taxpayer.
He argued that he could have claimed a lot more money by either designating his larger constituency residence in Somerset as his second home or been open about his relationship and claimed for other allowances and partner benefits - which he did not.
Money repaid
Following an investigation into the MP's conduct, the Parliamentary Commissioner for Standards found Mr Laws had made multiple and serious breaches of the rules.
His report said the breaches involved a "substantial amount" of money but found no evidence Mr Laws had acted with the intention of securing any financial benefit for himself or his partner.
It concluded that the MP's wish to maintain his privacy explained but did not justify his conduct.
Mr Laws, who has repaid more than £56,000 in unjustified claims, was forced to apologise to MPs for his conduct and was suspended from the Commons for a week last year.
Six former MPs and peers have served sentences after being convicted of expenses fraud.