Patrick McLoughlin wants FirstGroup rail bid to go ahead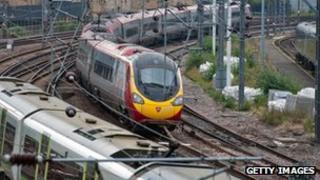 Transport Secretary Patrick McLoughlin has confirmed the government intends to proceed with FirstGroup's bid for the West Coast Main Line.
Speaking to MPs, Mr McLoughlin said he was satisfied all bids were considered fairly and with "due diligence".
Virgin launched a legal challenge after losing its attempt to continue operating the route.
Ministers were expected to sign the deal with FirstGroup earlier this month, but this has now been delayed.
Virgin has run the West Coast Main Line since 1997, but lost out to FirstGroup, prompting it to demand a judicial review.
Mr McLoughlin, who was appointed to the transport brief in David Cameron's reshuffle, said an "exhaustive procedure" had been gone through in examining bids.
'Continuity of service'
He told the Transport Select Committee: "I am satisfied that due diligence was done by the department and therefore the intention is to go ahead with the contract when we can."
"We are determined to press ahead with the award that we have made, but obviously we have to act within the law," he added.
Mr McLoughlin confirmed contingency plans were in place if the legal challenge was not resolved by the time Virgin's franchise comes to an end on 9 December.
The running of the line would be taken over by Directly Operated Railways - a state run company which took over running the East Coast Main Line in 2009 after franchisee National Express ran into problems.
The transport secretary said this would "ensure the continuity of service".
He praised Virgin boss Sir Richard Branson, who has been vocally opposed to the decision to to remove the franchise from his company, as having made a "fantastic contribution" to rail and aviation in the UK.
"I'm very sorry that we seem to be in a disagreement with him," Mr McLoughlin said.
"Anyone who has seen him operate and what he has done for transport infrastructure in this country would respect and take their hat off to him."
Virgin has made an application for a judicial review of the decision to award FirstGroup the contract, and has lodged papers at the High Court in London.
FirstGroup has said it wants to proceed "without delay or disruption" and would continue to prepare to start running the franchise later this year.
The Aberdeen-based company already operates a number of rail routes, including Great Western and ScotRail.
Aviation commission
The West Coast Main Line route serves 31 million passengers a year travelling between London, the West Midlands, the North West, North Wales and the central belt of Scotland.
Mr McLoughlin was also asked about the setting up of a commission, led by ex-Financial Services Authority boss Sir Howard Davies, to examine ways to expand airport capacity.
The group will not report until 2015 - after the next general election.
He said he thought it was "no bad thing to have a completely independent commission" and that work had been "going on within the department for some time" to establish the group as "a proper way to move forward".
"These issues are not short-term issues. They are issues for the longer-term.
"I hope when we've got the full membership of the Davies Commission we will be able to show that it is a body of respected people who can come forward with a detailed investigation into future aviation capacity and what the best answers are for the United Kingdom to keep the importance of aviation and also to keep its status in the aviation field.
"There have been commissions in the past but not for some time and not going into the kind of detail which I think the Davies Commission will go into."
Earlier, Willie Walsh Chief Executive of International Airlines Group - which incorporates British Airways and Iberia - criticised the government's failure to tackle hub airport capacity in London, describing the debate as "pathetic".
He told MPs he didn't "see any political will to address this issue".