Labour accuse David Cameron of a 'cover-up' over minister's links with adviser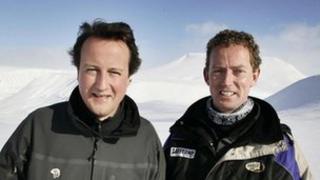 Labour has accused David Cameron of a "cover-up" after he refused to launch an inquiry into claims a minister had inappropriate links with an adviser.
According to The Guardian, climate change minister Greg Barker met corporate clients of Miriam Maes, a consultant in his department.
Mr Cameron said no inquiry was needed as Ms Maes was "hired by civil servants after a properly-run competition".
But Labour says it has seen emails that cast doubt on this version of events.
Shadow energy secretary Caroline Flint says the emails, obtained through a Freedom of Information request, show Ms Maes asked Mr Barker to personally intervene to secure her contract extension "on at least seven occasions" and about the possibility of her taking on other roles in the department.
'Big nudge'
In one email exchange, from February last year, Ms Maes says to Mr Barker: "I need your help to solve below issue on getting my new contract through Moira for half of the value of the old one (i.e. £10k as opposed £20k in the first one).The contract renewal is on Moira's desk since weeks. Can you please give it a nudge?"
Just over an hour later Mr Barker replies: "Thank you! Of course, will give it a very big nudge."
Caroline Flint has tabled a series of parliamentary questions to find out if the job being carried out by Ms Maes was advertised and if so how many people were interviewed for it and whether Mr Barker or other ministers were involved in the decision to hire her or renew her contract.
Ms Flint said: "David Cameron told the House of Commons that Miriam Maes was hired by civil servants after a proper competition, but this trail of emails suggests that Greg Barker personally intervened to secure Miriam Maes' job.
"There can be no cover-ups. Greg Barker must now come clean about exactly what involvement he had with the decision to hire Miriam Maes."
In a response, a spokesman for the Department for Energy and Climate Change said: "Neither Mrs Maes' emails about her contracts, nor the informal enquiries made by the minister about them, alter the fact that contract decisions were handled by officials in the correct way."
Mr Cameron was challenged about the Guardian story Labour MP Andrew Gwynne at prime minister's questions.
He told Mr Gwynne he had decided not to take action after consulting senior civil servants on Mr Barker's conduct.
"I don't see the need for a further inquiry on that basis," he said, adding that the "key point" was that "the individual in question was hired by civil servants after a properly-run competition".
'Excellent job'
Mr Cameron said Mr Barker, a Conservative MP who visited the Arctic Circle with him in 2006 to investigate climate change, was "doing an excellent job".
Mr Gwynne asked if ministers had learned nothing from the case of Liam Fox, the defence secretary forced to resign last year after an inquiry into his links with an adviser, Adam Werritty.
According to The Guardian, Mr Barker worked with Ms Maes, an energy consultant, when in opposition. She was then hired as a departmental consultant shortly after the coalition came to power.
She also accompanied Mr Barker on official visits in place of civil servants, the newspaper says, and was cautioned by officials "against overstepping the boundaries of propriety or conflicts of interest".
Ms Maes told the newspaper that she was open at all times with the ministry - "I declared the clients I had in Foresee, of which Air Products was one."