Boris and the Olympic legacy made flesh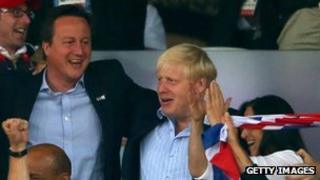 For one last time the crowds will cheer, Union Jacks will wave, gold medals will be flourished. Today the country will take one last gulp of Olympic spirit.
So potent has it proved that the political games, which begin as London 2012 ends, will see endless attempts to prove that it all goes to show how right the speaker is about the need (delete where applicable) for public investment; to pick winners; to promote competition; to focus on what the disabled can do rather than what they can't; to oppose cuts; to rediscover our pride as a nation... etc.
Today at their annual congress the TUC's general secretary took the first step on a path every political leader, except perhaps Alex Salmond, is sure to follow.
There will be endless promises to ensure that there is a positive legacy of London 2012, that we are more sporting as a nation, more inclusive and that the Olympic Park revives east London and does not become a white elephant.
However, I put it to you, ladies and gentlemen, that we will see one part of the Olympic legacy made flesh on display today on London's streets.
It is none other than the man who once said that his chances of being prime minister were "about as good as the chances of finding Elvis on Mars or being reincarnated as an olive". He is the Tory politician who is cheered, not booed, by Olympic crowds*. He is the man who is laughed with and not at when he dangles helplessly from a zip wire.
Yes, Boris - who along with Seb has been the non-sporting face of the Games - has, thanks to the Olympics, become not just that cheeky chap who brings a smile to your face, but the Conservative who makes his party's activists' hearts race and pulses quicken, who says the things they want to hear and who is not sullied by coalition.
So it is that Tory backbenchers put two and two together and made five when they figured that if the government proceeded with a third runway before the election (they've said they won't) then Zac Goldsmith will hand his seat (which is far from a safe Tory constituency) to Boris (who'd be accused of breaking his promise to complete a full term as mayor) who could then challenge Cameron for the Tory leadership (which would destroy his brand as someone who is "unlike all those other scheming, calculating, self-interested politicians".)
Boris and Zac did, we now know, talk about the idea but only, it's claimed, to laugh about it. I wonder.
The history of Boris is that he has been underestimated, not least by me. I knew him at Oxford where I never thought for a minute that he'd be a politician.
I broke the story that he was running to be mayor but didn't take it at all seriously, so only mentioned it in passing on my blog. I sat with one very senior Tory who discussed whether "to let Boris run" (little did they know). I dismissed the talk of him one day leading his party as fanciful.
Well, not any more. Boris now takes on the role once played by Michael Heseltine to Margaret Thatcher, Michael Portillo to John Major or Gordon Brown to Tony Blair.
He is now the prince over the water whether he, and whether his old school friend Dave, likes it or not. Everything he says and does from his power base (which is appropriately down river from Westminster and on the other bank of the Thames) will be seen through the prism of his scarcely-concealed political ambition.
His decision to condemn the prime minister's reshuffle and promise to fight plans for the expansion of Heathrow have guaranteed that.
The story of the next couple of years in Tory politics will be defined, in part, by how he and the prime minister - who may appear together today to celebrate the Games - learn to live together.
* Jeremy Hunt joined Theresa May and George Osborne in being booed at the Paralympics last week.