Reshuffle: The 'hand of George'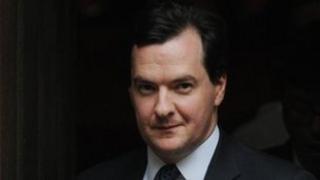 We always detected the "hand of Gordon" in Tony Blair's cabinet reshuffles.
When it comes to David Cameron's first major reshuffle, I detect "the hand of George".
The chancellor, George Osborne, wanted to remove obstacles he thought stood in the way of his policies.
Take transport.
Mr Osborne wants to give business the airport expansion they want but, in his mind, transport secretary Justine Greening was a block to even having a conversation about that subject.
So out she goes - to be replaced by Patrick Macloughlin, a Midlands MP with no constituency interest in echoing residents concerns about aviation noise.
Of course, there won't be a new runway at Heathrow in the next three years. The Lib Dems wouldn't allow it and David Cameron wouldn't break his word. But now, Mr Osborne will calculate that a debate can at least take place about whether expansion should be allowed in future.
Elsewhere, Caroline Spelman, an environment secretary who appeared sympathetic to the green movement, has been replaced by Owen Paterson, described by Lord Lawson, perhaps the foremost climate change sceptic, as a "brilliant" appointment.
Vince Cable, referred to privately by some Tories as the "anti-business" secretary, could not be moved in this reshuffle. But he now finds himself with two Conservative ministers in his department who will be friends of George - Mr Osborne's former chief of staff, Matthew Hancock, and former Tory deputy chairman Michael Fallon. They are there to keep an eye on Mr Cable and to chivvy him into embracing deregulatory measures.
We can also detect the "hand of George" in Iain Duncan Smith's decision to turn down a promotion to justice secretary. Allies say the work and pensions secretary felt it was the only way he could protect his beloved welfare reforms - in particular the creation of a new Universal Credit - from being killed off by the Treasury, who have always feared that, like the NHS reforms, what sounds good in theory could become a costly bureaucratic nightmare.
So we now have a traditional right winger, Chris Grayling, in charge of the justice system, rather than Mr Duncan Smith, who for all his right wing credentials was a publicly declared prison reformer like Ken Clarke.
The Lib Dems and others will now have to deal with the the consequences of what George felt had to be done.