Government marketing budget 'to increase'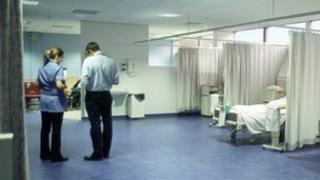 The government looks set to increase the amount it spends on advertising and PR to help it sell NHS changes and other policies to the public.
Next year's marketing budget is £285m, according to Cabinet Office figures.
That is an increase on the £168m spent by the now axed Central Office of Information in its final year.
The Cabinet Office says it is not fair to compare the figures and the overall budget is still far below that spent by the previous Labour government.
A spokeswoman said not all government marketing money was spent through the COI so it was misleading to compare the organisation's budget for 2010-11 with the projected spend for next year, which will include all marketing activity.
In addition, there was no "meaningful" figure for 2011-12, when the COI, which bought advertising space and commissioned public information films on behalf of government departments, was being wound up.
Complex changes
But marketing industry insiders say the figures, which are included in the government's new marketing plan for 2012-13 released this week by the Cabinet Office, clearly indicate an increase.
Oliver Hickson, former PR chief at the COI, said: "My view on this is that spending is going up.
"The vast majority of central government marketing spend was through the COI.
"There was some other spend but I would suggest that was either internal press offices or local authorities, which will still carry on."
Part of the planned increase in spending is likely to go on explaining complex changes to the welfare system and trying to convince health service workers and the public of the merits of NHS reforms, says Mr Hickson, who now runs his own public sector PR consultancy.
"They are quite big and potentially sensitive issues that you would imagine would need a reasonable amount of money spent on them to talk to stakeholders and the public," he told BBC News.
But he says it is "sensible" for the government to spend money on communication, particularly if it is targeted at "hard-to-reach groups" such as young people and pensioners.
In its "annual plan for proactive government communications" the Cabinet Office details how departments are being forced to work together on marketing to save cash.
Campaigns
It also sets out each department's "priority communication activities" for 2012-13.
The health department's priorities - in addition to long-running campaigns against smoking, obesity and other public health problems - include "supporting the implementation of the NHS's efficiency and productivity challenge" and "informing and engaging staff groups and stakeholders in the health and care reforms".
The department for work and pensions' priorities include "building understanding and positive perceptions of Personal Independence Payments as a fair benefit, personalised to reflect claimants' needs".
And the business department plans to spend money on "communicating the government's macroeconomic strategy" and "supporting policies designed to boost enterprise and manufacturing".
The COI was axed in April with the loss of 400 jobs as part of coalition efforts to cut the amount of money spent by the government on marketing, which reached more than £500m a year under Labour.
A Cabinet Office spokeswoman said the coalition was "determined to ensure spend never returns to anything like the highest levels seen before".
She said the Cabinet Office was working with the Government Procurement Service to put in place a new system for "accurately capturing, on a monthly basis, all central government communications spend" for the first time.