Ex-minister Peter Luff to leave Parliament at next election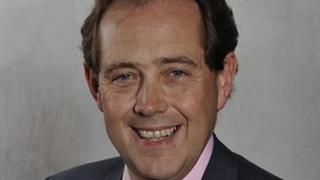 Former defence minister Peter Luff has announced he is to stand down as an MP at the next election.
Mr Luff, who lost his job overseeing defence procurement in Tuesday's reshuffle, has represented the Mid Worcestershire seat since 1992.
He said he would offer "robust support" to the government from the backbenches until the election, scheduled for 2015.
Mr Luff was chair of the business select committee before becoming a government minister in 2010.
In a message to constituents, Mr Luff said it had been an "immense privilege" to represent them.
"It is fashionable to deride politicians and the political process, but I believe there is no nobler cause than the representation of the people in democratically elected institutions," he said.
He added: "The coalition government is grappling with huge challenges, the scale of which is only just becoming clear.
"David Cameron and his ministers will enjoy my robust support as they address them with the determination and energy I know they will demonstrate."