Cameron braces himself for backbench resentment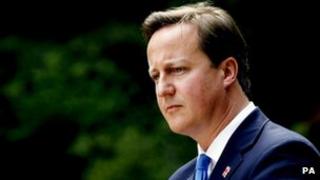 For a happy few MPs, reshuffles are a moment to rejoice.
They have placed their feet on the first rung of the greasy pole. They have ascended to the august station of parliamentary under secretary. They have won the right to be called "minister" by obsequious officials.
They might not get a car and driver these days but they have become proud possessors of a red box and have no shame in showing it off.
But for most MPs, reshuffles are a source of resentment. They are the moment when all hope is dashed, when expectation deflates and the bitterness begins to creep in.
For these MPs know that their political careers are now on the downward path, that their best years are over, that they have a great future behind them.
This is the danger for David Cameron as he reshuffles his government. The Conservative parliamentary party is already restless. Scores of Tory MPs have shown themselves willing to rebel against their government.
The risk is that the prime minister ends up annoying more MPs than he pleases and that could make his discipline problem even worse. That could have a huge impact on big parliamentary votes in the next few years.
Here is my informed take on just how many Conservatives backbenchers are feeling:
The sacked
Some will accept with good grace. These are the old stagers, the men and women who were probably ministers in John Major's government. They might have wanted to remain in government but they will probably accept that they have had their moment.
But others will be less sanguine. There will be some ex-ministers for whom their dismissal is a complete surprise. They did not expect the chop and so the impact will be even greater. They will wonder what they have done wrong.
Was their loyal, trusty service not good enough? Did the prime minister value them so little that he felt able to dispense with their services so easily, cruelly ending their career simply so he could give their job to someone else?
The passed over
This is a large group. Few MPs enter Parliament - however much some deny it - without a small voice in their head asking whether or not they could cut the ministerial mustard.
Some have satisfied their ambition as committee chairmen or policy specialists. But most still harbour a fantasy that government must one day have room for their talents.
They will have been waiting for this moment since the general election, the expectation will have pent up, and they know it is probably their one opportunity to make the grade before voters next go to the polls. And now they have missed their chance.
The last chancers
There are some MPs who were told in 2010 to be patient, their moment would come later. These are MPs who have been around for years but never felt the warm glow of pride as they cruise around Whitehall in the ministerial car.
They might have been fobbed off with a paltry role as a parliamentary bag-carrier for another minister. They will have watched other colleagues picking up their red boxes and wondered in bemusement: "Why them?"
It is, in the words of one MP, "a nagging, irritating thing that gnaws away at you for your whole career. You want to be a minister. Anything, you just want to be a minister. And there is nothing you can do about it."
The ignored 2005 intake
Some 54 Tory MPs were elected for the first time in 2005. They might have voted for David Cameron in the leadership contest of that year. They might have worked the hard yards of opposition, helping to reform their party in Mr Cameron's mould.
They might not have been natural modernisers but they did their bit and spoke up for the Big Society and told the television cameras it was marvellous to have a leader who knew how to cuddle a husky or tell yobs they needed more love in their lives. And now they discovered that all that hard work has come with no reward.
The unrewarded loyalists
Many MPs will have worked hard keeping their noses clean. They will have listened carefully to their whips and not rebelled against the government over Europe or Lords reform. How might they feel if one of their colleagues who has walked through the opposition lobbies gets a job?
Some 81 Tory MPs rebelled against the government and called for a referendum on Europe - and it would be quite difficult for the prime minister to rule all of them out of office forever.
The overconfident 2010 incomers
In all, 148 Conservative MPs were elected to parliament for the first time in 2010. A goodly number of them have a confident self-belief in their own ability. Many are not spring chickens, having worked long and hard to get into Parliament while running businesses or holding down pretty chunky jobs.
Not all of them will get jobs in this reshuffle. They might ask quite reasonably why their neighbour has been favoured and they have not.
Former shadow ministers
There are by my count 23 Conservative backbenchers who were shadow ministers before the 2010 election. They had a reasonable expectation of getting a job in government. They did not, in part because their jobs had to be given to Liberal Democrats.
Some were told that they should wait their turn. If they do not get a chance now, they could probably reasonably conclude their time has passed.
The men
Some male Conservative MPs will not be happy if they see some of their female colleagues promoted and they might conclude that gender has trumped merit. Many are still smarting at the appointment of Chloe Smith as a Treasury minister in October 2011 to replace Justine Greening.
A flood of female promotions might further upset some white, male MPs of a certain age.