MP Kate Green urges action on rickets rise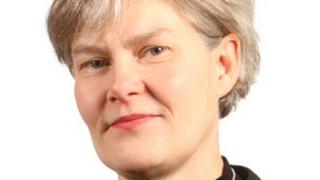 The government is not doing enough to tackle a "shocking rise" in the number of people suffering from rickets, a Labour MP has said.
Kate Green acknowledged ministers had taken steps to remind GPs about the dangers of a lack of vitamin D, which can lead to the disease.
But she said public awareness should be raised amongst those most affected.
Government guidelines recommend some groups, including the under-fives, should get daily vitamin D supplements.
In addition to informing health professionals of the dangers, better public communication is needed to make sure guidance about diet and sunshine exposure is "clear, consistent and well targeted" Ms Green argued.
"Rickets is a preventable disease, one that many of us thought firmly belonged to the past, and which we can and should take action to eradicate," she said.
'Patchy knowledge'
It has long been known that vitamin D prevents rickets - where bones become soft and deformed - and children were once given food supplements like cod liver oil.
This practice was stopped in the 1950s because it was thought unnecessary.
However, the number of cases of rickets has been rising over the last 15 years, from 183 in 1996 to 762 in 2011.
To tackle concerns, the chief medical officer for England contacted medical staff earlier this year to remind them of the government guidelines.
And the Department of Health has asked the Scientific Advisory Committee on Nutrition to review the issue of current dietary recommendations on vitamin D, but it is not expected to report until 2014.
Speaking in an adjournment debate, Ms Green said: "It's likely that any recommendations made by the committee could take time to implement. Yet there are things that can and should be done now."
"Knowledge among health professionals remains patchy and, in particular, their understanding of nutritional issues can be quite limited," she said.
'Rickets epidemic'
Informing and educating the public was also needed, as many of those affected "very rarely go anywhere near health professionals", Ms Green added.
Groups most at risk include pregnant and breastfeeding women and babies, young children, elderly people, those who are not exposed to much sun and people with darker skin pigmentation, such as those of African, African Caribbean or south Asian origin.
As well as consuming vitamin D through diet, humans naturally produce it when exposed to regular sunlight.
The recent wet summer led the British Medical Association to warn of a "rickets epidemic" with youngsters "robbed" of vitamin D through lack of sun.
Ms Green also raised questions about whether food supplements should be used to boost the level of vitamin D in the food chain - something some doctors have called for.
"Relatively few foods are rich in vitamin D, and consumption of many of those (full-fat dairy products, eggs, oily fish for example) has fallen in recent years," Ms Green said.
"Yet in the UK, we fortify only a few foods - margarine, some processed cheeses, some breakfast cereals - though not milk, which has been fortified in Canada and the US for many years."