Profile: Green Party leader Natalie Bennett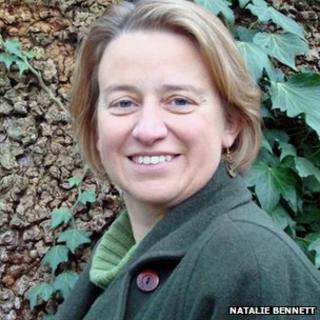 Australian-born former journalist Natalie Bennett, 46, is the new leader of the Green Party in England and Wales.
She replaces the party's most high-profile figure, Caroline Lucas - who became the first Green MP at the last election.
Before getting involved in politics Ms Bennett wrote for a number of publications, starting out as a journalist on two provincial Australian newspapers.
She has written for The Independent, The Times in London and the Bangkok Post and is a former editor of Guardian Weekly, which she left to concentrate more on writing and politics.
This is the first major electoral success for Ms Bennett after she twice failed to secure a council seat in her home borough of Camden and missed out on a seat on the London Assembly this year where she was a list candidate.
Feminist
In the 2010 general election, she got 2.7% of the vote when she contested the Labour held seat of Holborn and St Pancras in central London.
A self-declared feminist, Ms Bennett founded Green Party Women and is a trustee of the equality campaign group the Fawcett Society.
She says her first politics was feminism which started when, at the age of five, she was told she wasn't allowed a bicycle because it wasn't "ladylike".
Her interest in green politics and the environment came later when she did a degree in agricultural science, although she didn't join the Green Party until 2006.
Now at its head, Ms Bennett says she wants to see the party promote its "radical and unique" agenda for improving people's lives in Britain.
She wants the government's cuts, which she has labelled "economically illiterate", to stop and replaced by more spending on homes, jobs, energy conservation, renewable energy and public transport.
'Committed voters'
She wants to see a more localised economy with more UK manufacturing and support for farmers, with the financial industry "reined in" to avoid another crash.
She has called for a living wage and said no-one should be paid 10 times more than that, effectively setting a maximum pay level.
Energy conservation and reducing demand are top of Ms Bennett's list when it comes to tackling climate change.
During her leadership campaign she pledged to work strategically to make sure the party gets new councillors, MEPs and MPs across the country.
She has set herself the target of trebling the tally of Green MEPs from two to six at the next set of European elections in 2014 and getting a Green councillor in every major town and city by the end of the decade - goals she has said are "perfectly achievable".
The party needs to create a "committed, inspired Green voters - not just people who lend us their vote when they've despaired of all the others and want to protest," she says.