Tony Blair bust planned for Commons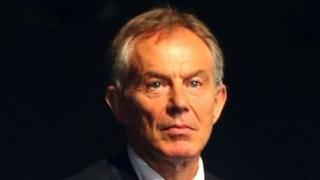 Former Prime Minister Tony Blair is set to be honoured with a portrait bust in the House of Commons.
He will join the line-up of 20th Century PMs immortalised in this way in the members' lobby.
Mr Blair has agreed in principle to sit for a portrait although the sculptor has yet to be chosen, according to minutes of the Commons Advisory Committee on Works of Art.
The minutes were obtained by The Daily Telegraph through an FOI request.
A spokeswoman for the committee told BBC News: "They have agreed in principle to put in a bust of Tony Blair at some point but that is as far as it has gone.
"There haven't been any further negotiations."
The committee minutes, from 8 November 2011, say: "It was proposed that a portrait bust of Tony Blair be commissioned during the 2010 Parliament."
At a further meeting, the committee was told Mr Blair had agreed in principle and it was noted that "further negotiations about timings and artists would now need to take place".
Customary
There is a bust of every prime minister since 1900 in the members' lobby, with the exception of Mr Blair, Gordon Brown and David Cameron.
The Works of Art committee spokeswoman said it was customary for a bust to be commissioned when a prime minister had left office and their party was out of power.
She said she would expect Gordon Brown, who succeeded Mr Blair as Labour prime minister in 2007, to be similarly honoured but she was not aware of any discussions with him on the subject.
The members lobby, a hallway by the doors to the Commons chamber used exclusively by MPs, also has statues of Sir Winston Churchill, David Lloyd George and Lady Thatcher.
The cost of the proposed Blair bust was redacted from the minutes released under the FOI request.
The spokeswoman said the Speaker's Art Fund budget had been halved in the past year and it was relying more on charitable donations and income from the Commons gift shop.