William Hague says UK must shed 'guilt' over empire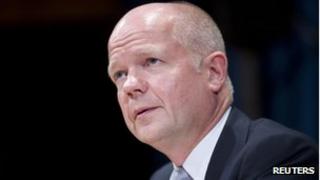 The UK must shed any lingering feelings of "post-colonial guilt" and be confident about its status on the world stage, William Hague has said.
The foreign secretary said the UK was seen in a "different light" to 50 years ago - when ex-British colonies across Africa and Asia declared independence.
He told the Evening Standard the UK had a "new and equal partnership" with countries unburdened by past history.
Mr Hague stressed he wanted to remain at the Foreign Office in any reshuffle.
The UK is seeking to expand its diplomatic presence across Asia, Africa and Latin America in an effort to boost bilateral relations and enhance economic and trade opportunities.
Mr Hague said the UK should be "more ambitious" about its role in the world and should not be held back by worries over any residual resentment overseas about its colonial past.
'Different generation'
While "a small minority" of people in Africa may still view Britain in "colonial terms", the UK's relationship with the continent was fundamentally different now.
"This is a new and equal partnership," he said.
Mr Hague said he was not alive when the then prime minister Harold Macmillan made his famous "wind of change" speech in 1960 - acknowledging independence movements across Africa.
"It is a different generation," he stressed.
"Britain in seen in a different light. We have to get out of this post-colonial guilt. Be confident in ourselves. The lessons we should take from the admitted need for austerity, saving money, is that we actually need to be more ambitious, not less."
The UK, he suggested, should "just relax" about its role as an imperial power and the legacy of that period in its history, adding that "it is a long time ago, the retreat from empire".
The foreign secretary said the UK was a "natural centre" in a world which was no longer divided into "blocks" but was connected by technology and, in his words, "networked".
By 2015, the Foreign Office wants to deploy an extra 300 diplomatic staff in the "fastest-growing cities and regions" in about 20 countries.
Amid speculation about an imminent cabinet reshuffle, Mr Hague also suggested he had no desire to leave the Foreign Office.
"I have always been clear I came back into frontline politics to do foreign policy and that's what I am here doing," he said.
Mr Hague spent four years on the backbenches following his resignation as opposition leader in 2001, joining David Cameron's top team in 2005.