Government could save £800m on buildings, MPs say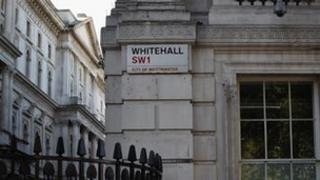 An influential committee of MPs has said the cost of running government buildings could be slashed by £800m.
The Public Accounts Committee said departments should be given incentives to improve property management.
Huge savings could be made if control was centralised and unused property sold off, it added.
The Cabinet Office said it would consider the report "carefully" but running costs had already been cut by £200m in 2011-12.
The private sector had lessons to teach Whitehall about the efficient use of property, the MPs added.
'Greater clout'
Labour MP Margaret Hodge, who chairs the committee, said: "Central government offices cost the taxpayer around £1.8bn a year to run.
"Progress has been made in recent years to drive costs down, but a more ambitious approach could deliver much bigger savings: more than £800m a year by 2020."
The Cabinet Office's Government Property Unit is responsible for working with government departments to deliver savings.
Ms Hodge called for the unit to be given "greater clout to mandate action across Whitehall" so that it could "lead from the front".
She added: "Savings up to now have largely been achieved by departments working alone. If savings are to be maximised in future, departments will need financial incentives to work together to share space and sell excess property."
The committee concluded that local and central government should work more collaboratively and consolidate the property estate by either renting or selling unused space.
Improvements
The committee acknowledged there had been some improvements in the way government offices were used through a greater sharing of space between departments and more open plan offices.
But it found departments were unwilling to dispose of unused property which could benefit the public finances.
The Cabinet Office said it would "consider the PAC's recommendations carefully" but claimed that running costs had already been cut by £200m in 2011-12.
A spokeswoman said: "In less than two years the government sold over 250 freeholds, generating more than £640m."
"We are working with Bristol City Council and Preston Council on pilot property projects across the wider public sector.
"We have also identified empty office spaces which will be offered to [small businesses] and are exploring how others could be used for free schools."
MPs took evidence from the Cabinet Office and the Department for Business, Innovation and Skills when preparing their report.