GCSE teens 'robbed of grades' says 'superhead'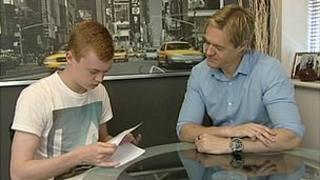 For sixteen-year-old Sheridan Sidlow the summer of 2012 had been looking good.
The Leeds teenager had been offered a two-year apprenticeship as a technician with the National Health Service to start in September.
Sheridan himself admits he has never been amongst the most academically gifted students.
But both he and his teachers were confident that he could achieve the marks in his GCSE examinations to qualify for the college course that was an essential part of the apprenticeship.
He got all the marks he needed in his crucial Science, Mathematics and English exams but his dream was still shattered.
With no warning the examination board AQA decided to increase the level of marks it required when it awarded grades for its GCSE in English.
His "C" became a "D" and his offer of an apprenticeship was withdrawn.
'Unfair' grades?
"I feel angry," he told me as he sat alongside his worried dad Mark at their home in the Middleton district of Leeds.
"I got the marks but then they changed the grading. It's unfair."
Sheridan is not the only one holding that view.
"Students deserve to get the grade that they've earned," says John Townsley, the tough talking head of two West Yorkshire academies.
He believes AQA awarded too many "A" to "C" grades when some students from the same age group chose to take their GCSE English exams earlier than their classmates in January.
As a result those sitting the papers in the summer had to get higher marks to gain the same grades.
"We believe that they have been robbed of that opportunity through the maladministration and unprofessionalism of one of the key awarding bodies," he told me.
John Townsley's angry analysis of this GCSE fiasco must have echoed around the corridors of the Department of Education 200 miles away in Whitehall.
But so far Secretary of State Michael Gove has not commented.
In the past the Education Secretary has been quick to use John Townsley as an example of a "superhead" whose leadership can dramatically improve state schools.
Now Leeds City Council has joined head teachers and teaching unions to discuss taking legal action.
That view is spreading.
North Yorkshire County Council issued a statement saying there was "something wrong" with the GCSE English results this year.
National standards
The official watchdog Ofqual, the Office of Qualifications and Examinations Regulation, has launched an investigation.
On its website AQA, no stranger to controversy, insists it was not the only examination board to raise the marks required for GCSE English grades this summer.
"Our boundaries changed by between 0 and 3 marks in order to maintain national standards," it states.
AQA points out that across the country the proportion of the 280,000 or so gaining a grade "C" or above fell slightly from 64.8% to 63.7%.
It is a statistic that has put a shadow on young Sheridan Sidlow's working life before it has even started.
All this at a time when there has been a worrying increase of young people Not in Education Employment or Training - the so called, NEETS.
The August figure for the Yorkshire and Humber Region issued by the DHSS shows a record 138,000, almost a fifth of all under 24 year olds, are now in this position.