Public sector workers 'entitled' to pay scale rises - Treasury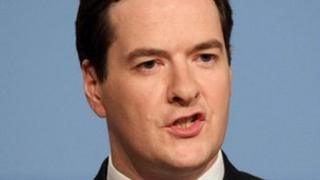 The Treasury has denied that £3.3bn in annual savings expected from the public sector pay freeze are being threatened by incremental rises in staff wages.
Despite the two year pay freeze announced by George Osborne in 2010, some workers are enjoying rises under a process known as pay progression, the Financial Times reported.
The rises range between 2% and 5%, it said, as staff moves along pay scales.
But the Treasury said the recipients were contractually entitled to them.
Government officials said it was always envisaged that staff would receive these increases, owed to them under their terms of employment.
Sliding scale
Such increments were not mentioned in the chancellor's June 2010 budget speech when he said he was "asking the public sector to accept a two-year pay freeze".
However, he did say in the 2011 Autumn Statement, when announcing that general pay rises would be restricted to 1% for a further two years, that "many are helped by pay progression - the annual increases in salary grades that many people are entitled to, even when pay is frozen".
He added that pay progression was one of the reasons why public sector pay has risen at twice the rate of private sector pay in recent years.
A Treasury official told the FT: "If you perform reasonably well you can move up that sliding scale. It is the pay scale that has been frozen."
It is believed that some Whitehall departments, the NHS, armed forces and police were unable to impose the pay freeze because staff were guaranteed annual increases within their pay scales.
The BBC's Business Correspondent Simon Gompertz said he understood that ministers believed axing the pay rises would be pointles because it would have resulted in complicated and costly appeals.
Ministers hope to save £3.3bn per year from holding down public sector pay.