Olympic legacy sparks new school playing fields row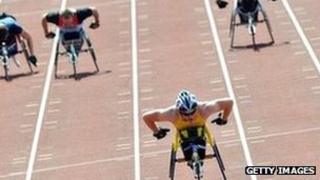 Talk of ensuring an Olympic legacy is already forcing some interesting political twists and manoeuvring. In Leicestershire, there has been some nifty footwork that could outpace Usain Bolt.
This particular political sprint starts in Loughborough and could end with the Communities and Local Government Secretary Eric Pickles.
Under starter's orders: It's back to Loughborough. Not only a university town, it's also the training hub of some of the UK's elite Olympic athletics.
Get set: Neighbouring the university campus are two local schools: Burleigh Community College and Garendon High.
Plans to build a new school for special needs children had been progressing with little media attention, until the end of London 2012 and the medal haul of a victorious Team GB.
Go: The proposals were due to be signed off by members of the development control committee of Leicestershire County Council. That's until the starting gun backfired.
The problem was the new Ashmount Special School is to be built on some of Burleigh's playing fields. A running track and long jump pit would have to go. There would also be space for up to 125 cars for teaching staff.
The Sports Council had initially objected, but it was Leicestershire's Labour leader, Max Hunt, who seized the post-Olympic headlines on this particular row.
"This is a denial of the Olympic legacy," said Councillor Hunt.
"There's no doubt the special school is needed, but the playing fields have become a soft touch for the new school. This needs to be looked at again."
The subsequent media storm has produced some robust reaction from Leicestershire's Conservative leadership.
"This £9.4m special school will include disabled sports facilities open to other schools and the general public," said Councillor David Sprason, the county council's acting deputy leader.
The new special school will include a hydrotherapy pool, a sports hall, climbing wall and a new all-weather pitch.
"Taken together, this will enhance sporting facilities available and I cannot think of a better Paralympic legacy than to create these much-needed disabled sporting facilities in Loughborough," added Councillor Sprason.
The rebuttal baton was handed over to the principal of Burleigh Community College, Mark Sutton.
He has talked up additional legacy funding that could result in a new all-weather football pitch.
"It will result in the enhancement of our sports provision, including new facilities specifically for young people with disabilities and special educational needs," he said.
"This development will support the Olympic and Paralympic legacy, helping to nurture the champions of the future."
Bullseye! The proposals have now been approved by Leicestershire county councillors, but this row still has legs.
There remains the objection of the Sports Council over the loss of the playing fields. That's why the issue at Burleigh College is now heading for the in tray of Eric Pickles.
He has to decide whether to intervene or order a public inquiry.
That could be some marathon.
It'll also be a test of how long the post-Olympic euphoria lasts. And politically, at what stage will all that GB Olympic gold start to lose its shine... and its potential to shove politicians in the direction of the long jump.