Government minister v local MP: Divided loyalties?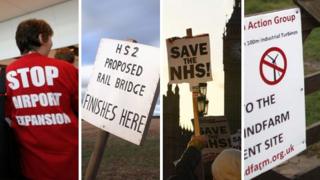 MPs are elected to represent their constituents in Parliament but many - currently 100 of them - are also given jobs as ministers in the government. What happens when the two roles come into conflict?
It is a fact of life that politicians, even in the age of 24-hour news, cannot be in two places at one time.
But for ministers, who have a double life serving the government and their constituencies, it is not uncommon for their sat-navs to point in two directions at once.
For most, this is one of the joys of the job, but for those who find their ministerial red boxes and constituency mail bags telling them different things, it can become a real headache.
This scenario must be all too familiar to the now former transport secretary Justine Greening.
She was moved to another post by David Cameron following suggestions - made both by business and some Conservatives colleagues - that she was unable to be an "honest broker" in the debate about the UK's future aviation needs.
Local campaigner
The reason? Before she became a minister and took over the transport brief, she was a vocal opponent of Heathrow expansion as MP for Putney - a constituency which is under the airport's flight path.
In contrast, her replacement Patrick McLoughlin was said to be "unfettered" and carrying "no baggage" on the issue - his Derbyshire constituency is a long way from London.
Miss Greening is not the only serving minister to have found themselves under strain when it comes to balancing their national and local responsibilities.
Cheryl Gillan lost her job as Welsh Secretary in the recent reshuffle but it has been her stance on an English transport issue which has really attracted attention.
Her Chesham and Amersham constituency is in the middle of the route of the planned high-speed rail line between London and Birmingham, making her a lightning rod for its critics.
She is said to have been instrumental in securing improvements to the route to reduce its impact. Some have speculated she might use her return to the backbenches to come out against the scheme.
But should ministers ever be faced with the question of who to put first - their government colleagues or their constituents?
Labour's Andy Slaughter, who resigned as a ministerial aide in 2009 over his opposition to a third runway at Heathrow, says he found himself in an irreconcilable position as a member of the government and an MP representing a seat in West London.
"Justine Greening was a lot more exposed than I was because she was a cabinet minister and transport secretary," the MP for Hammersmith says.
"There are sometimes things that are impossible to balance.
"Things you are personally concerned about, things that your constituents are concerned about and things you are mandated to do as a government."
'Particular care'
Think tank the Institute for Government says the UK is relatively unusual among major democracies in giving politicians both executive and representative responsibilities.
"It is not just the US. In lots of other European states, MPs are officially barred from being ministers at the same time," says the think tank's Akash Paun.
As Tory MP Douglas Carswell pointed out in a recent blog, the process used to be rather different.
"Until the First World War, when a backbencher was asked to join the government, they had to resign their seat and win a by-election because they were deemed to be changing sides," he wrote.
The UK's political system ramps up the pressure further on ministers by making them accountable for decisions at a local level affecting their constituents' daily lives.
"It reflects the quite centralised nature of our constitution that decisions on issues such as hospital closures are taken in Whitehall," says Akash Paun.
So how far can ministers go when it comes to defending their constituency interests?
According to the ministerial code, where ministers have to take decisions which might affect their constituencies, they must take "particular care" to avoid any possible conflict of interest.
In practice, this means informing their permanent secretary - the top civil servant in their department - of anything contentious that might crop up.
In the case of junior ministers, the guidelines stress that "responsibilities should be arranged" to avoid any conflict of interest.
'No alternative'
In layman's language, this means ensuring the rail or roads minister do not find themselves in the invidious position of deciding whether a new route should pass through or skirt round their backyard.
Secretaries of State such as Ms Greening, who are responsible for every decision taken by their department, do not have such a get-out clause.
Akash Paun says it is a "well-accepted convention" that ministers can also lobby their colleagues on issues like hospital closures and planning decisions which have a direct bearing on their constituents.
In 2006, the then cabinet minister Hazel Blears defended her decision to take part in a protest over plans to close part of a hospital in her constituency - a result of a government-backed shake-up - by saying her "first and foremost job" was to represent her constituents.
And last year Iain Duncan Smith raised eyebrows by signing a petition on the doorstep of No 10 opposing the closure of A&E and maternity units at a hospital in his east London constituency.
In such situations, the code states that ministers must make it clear they are acting on behalf of their constituents and not on behalf of their department.
But Andy Slaughter, who is now a shadow justice minister, says this distinction is "absolutely not clear enough" to the public.
"Iain Duncan Smith has campaigned very hard and sincerely about hospital closures in his constituency," he argues.
"It does look, to some extent, like hypocrisy because it is against what his government is doing.
"But what is the alternative? In the end you have to say this is what I am going to do and the public can make their mind up."
'Sane and in touch'
One former Conservative MP and government whip says Miss Greening found herself in a "very awkward" position but believes there is little chance of escaping such a scenario in a parliamentary system.
He says he would not want the UK to follow the US by separating executive and legislative functions and divorcing ministers from constituency responsibilities to spare their blushes occasionally.
"Having constituents breathing down your neck keeps you sane and in touch," says the ex-MP, who asked not be named.
Since Miss Greening's move to International Development Secretary the government has announced a commission to review how to expand UK aviation capacity. This is seen as paving the way for the possibility of a third Heathrow runway forming part of the Conservatives' next manifesto.
The prime minister insists that he will not break his pledge not to give the go-ahead for the new runway during the current parliament, but opponents of Heathrow expansion, such as London Mayor Boris Johnson, have said such a move was the only explanation for Miss Greening's demotion.
Even though she has been moved out of the firing line for now, Miss Greening is still bound by collective responsibility as a cabinet minister.
She, and other London MPs in the cabinet, would theoretically have to support any new policy which emerges on Heathrow from 2015 onwards or leave the government.
And Akash Paun believes it is "inevitable" that ministers will continue to face conflicts of interest.
"In general, the British government has been quite good at managing this kind of ethical dilemma. But ministers do have two hats to wear and to some extent they do have divided loyalties."