David Cameron meets King of Bahrain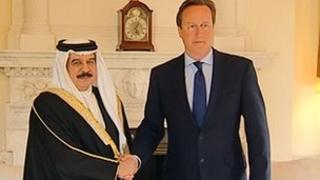 David Cameron has met the King of Bahrain in Downing Street amid calls for him to push for action on human rights abuses.
It will be the third time as prime minister he has met the king.
When they met at the end of last year the PM pledged UK support to help implement reforms in the country.
It followed international condemnation of the Bahrain government's response to the Arab Spring demonstrations in 2011. At least 40 people died in the unrest.
An independent commission found that Bahraini police had used excessive force against anti-government protesters.
'Crystal clear'
The Bahraini government pledged reform and King Hamad sought UK advice on changes to the police and judiciary.
However, since then Human Rights Watch has accused Bahrain's police of continuing to beat and torture detainees, including minors.
Amnesty International said reforms in recent months had been a "facade" and called on David Cameron "to make it crystal clear that the UK will not stand idly by while Bahrain proceeds to lock up its dissidents".
A Downing Street source told BBC correspondent Nick Childs the meeting would be focused primarily on trade, but the pair would also discuss the situation in Syria.
It is highly likely that they will talk about the fallout from the Arab Spring, the reform process and the political climate in Bahrain, our correspondent said.
Mohammed al-Tajir, a human rights lawyer and president of the Bahrain Rehabilitation and Anti-Violence Organisation, told BBC News the king and the Bahraini government had failed to implement most of the commission's recommendations.
"Britain is a strong ally of Bahrain and these kinds of visits are normal," he said.
"What is abnormal is to continue these kinds of visits without a change in the promises given by the king himself and the Bahraini government to change the miserable situation in Bahrain.
"While he (the king) is here in Britain I don't think the British prime minister is happy to have these kind of conversations...
"He should put pressure (on the king) to give an exact time when there will be a kind of reconciliation in Bahrain; when there will be a real dialogue and when there will be an end to official martial law in Bahrain - where there are more than 1,500 still in jail just for expressing their views and expressing their right to peaceful gathering."
In April, the controversial Bahrain Formula 1 Grand Prix went ahead despite continuing anti-government protests.
Human rights campaigners also condemned the inclusion of King Hamad at a luncheon at Windsor Castle to mark the Queen's Diamond Jubilee.