Apathy fears over police chief elections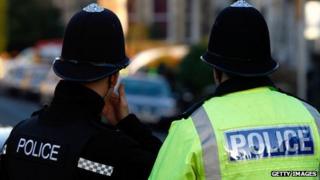 It is now less than three months until the elections that form the centrepiece of what the Home Secretary Theresa May has called the "most radical reform of policing for 50 years"
For the first time across England and Wales, the people who appoint, and can ultimately dismiss, chief constables will be directly elected.
It is a idea that has had an elephantine gestation period.
As far back as 2003, some in Conservative circles were already talking about a plan they hoped could jump start the democratic accountability of police forces. Turbo charge scrutiny. Empower local people.
They said police authorities, those all but anonymous collections of councillors and local appointees, should be scrapped.
A directly elected figurehead would do the job instead.
Nine years on, those first elections are just 12 weeks away.
'Shambles'
The big challenge for the government is to convince people to turn out to vote, and hope the turnout isn't as dismal as the weather in November so often can be.
"It has been a shambles. They have decided to hold a winter election, even though we know that drives turnout down," Katie Ghose, the Chief Executive of the Electoral Reform Society told me.
"They are not providing information in the post as we'd like to see, even though seven million people don't have regular internet access."
Ms Ghose makes the case that a low turnout threatens to undermine the whole case for opening up police governance to direct public scrutiny.
Here is the central problem for ministers. Enthusing people, on a dark, cold and wet Thursday in November, to vote for someone for a position they may barely understand. And, to vote for someone to replace an authority they had probably never heard of.
"We are used to as a country not having a great deal of input to what is happening locally. Consequently it is unsurprising if the debate is not very developed," says Sam Chapman, editor of the Top of the Cops blog.
"Give the police and crime commissioner a couple of years and the debate will be very different from today. Any police commissioner will have more of mandate than any of the existing police authorities," he adds.
'Tensions'
Few dispute the scale of the change that is coming, even if awareness of it is limited. The new commissioners will have different outlooks and different personalities. Policing will have a different feel in different places.
"We will be looking at 41 mini experiments. They will all operate slightly differently. All the individuals elected will be different, the chief constables are different," Jon Collins, deputy director of the think tank the Police Foundation tells the BBC.
"There may be some where there are some tensions that cannot be resolved and in those cases we are likely to see chief constables moving on pretty soon."
Looking at the change through the prism of Westminster, it is likely to be chalked up as one of the most significant constitutional changes during the coalition's time in government.
"It is almost an extension of the franchise in some ways," said Blair Gibbs, research director for crime and justice at centre right think tank Policy Exchange.
"In our democratic life we now have an important executive figure at local level.
As a constitutional reform it is a legacy of the coalition government. But that is not just about governance. It is not an end in itself.
"If police and crime commissioners do their jobs well policing will improve and the streets will be safer," adds Mr Gibbs, who used to work for the Policing Minister Nick Herbert, added.
That contention, that policing will improve, is ultimately how the whole idea will be judged in the long term.