Tories refuse to repay Polly Peck donations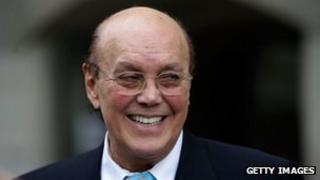 The Conservative Party has rejected calls to repay money from Asil Nadir's Polly Peck group in the 1990s.
Mr Nadir has been found guilty of the theft of millions of pounds from the Polly Peck empire.
But the party says there is no evidence to suggest the money was stolen and the cash had come from a publicly-owned company not Nadir personally.
A Labour MP had called on the Tories to honour a promise made by former prime minister Sir John Major.
Sir John said his party would return donations if the money was "dishonestly obtained and dishonestly donated".
An Old Bailey jury convicted Nadir, 71, of 10 thefts from the former conglomerate totalling £29m and cleared him of three charges.
Polly Peck International, once a major UK company, collapsed in 1990 after a Serious Fraud Office investigation.
'Good faith'
Mr Nadir fled the UK in 1993, while awaiting trial, and remained a fugitive in northern Cyprus until 2010 when he suddenly returned.
MP for Rochdale Simon Danczuk said: "Even John Major's government, which was mired in sleaze, knew they'd have to give back Asil Nadir's money if he was found guilty.
"David Cameron must honour the unequivocal promises the Conservative Party have made to repay the £440,000 they accepted from Asil Nadir in the 1990s.
"If he doesn't, it will show the Tory Party aren't serious when they claim they want to clean up politics."
However the Conservative Party insisted the money had not come from Nadir but from his company.
A statement form the party said: "The Conservative Party has no record of having received donations from Asil Nadir."
"Donations were received from Polly Peck companies more than 22 years ago; these were accepted in good faith from what was then considered to be a leading British company.
"There is no evidence that money donated to the Conservative Party from the Polly Peck group was stolen."