More than 100 quangos axed by coalition, say ministers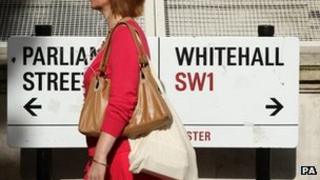 More than 100 quangos have been axed and a further 90 merged into other bodies since the coalition came to power, ministers have said.
Cabinet Office minister Francis Maude said the cull of publicly funded agencies was on track to save £2.6bn by the end of this Parliament.
However, costs from the reorganisation, including redundancy payouts to staff affected, could be as high as £900m.
Labour said the "so-called clampdown" was not all it seemed.
Some campaigners welcomed the savings but one think tank queried the figures.
Quangos - "quasi-autonomous non-governmental organisations" - are "arm's-length" bodies funded by Whitehall departments but not run by them.
They are advisory bodies, consumer watchdogs or organisations carrying out public services.
'Quango state'
In October 2010, the coalition said it had reviewed 901 quangos and earmarked nearly 200 for closure and a further 120 for amalgamation as part of its deficit reduction strategy and Whitehall efficiency programme.
In its latest update on how the plans are proceeding, the Cabinet Office said 106 quangos had lost their public status since then.
Among those to be axed, sold off or to have had their functions transferred elsewhere include the Design Council, the Tote, the Renewables Advisory Board, the UK Film Council, Cycling England and England's eight regional development agencies.
Another 80 organisations - such as the postal regulator Postcomm - have disappeared after being merged into other organisations.
Mr Maude said £1.4bn would be saved as a result of decisions already taken and the government was on track to meet its target of £2.6bn in savings by 2015 - the scheduled date for the next election.
"We are only halfway through the first phase of our programme," he said.
"Once we have completed the planned closures and mergers, we will continue to review all remaining quangos to ensure that never again will we end up with so many of these vast bureaucratic and unaccountable bodies."
'Questionable'
For Labour, shadow Cabinet Office minister Jon Trickett said: "Far from cutting bureaucracy they've launched an unwanted and wasteful upheaval of the NHS, creating a new NHS Commissioning Board, which David Cameron has been warned 'could turn into the greatest quango in the sky'."
MPs have questioned the projected savings and the wider benefit to government in terms of quicker decision-making and greater accountability.
Last year, the cross-party public administration committee said the process had been "poorly managed" and pre-election claims about how much could be saved were "probably exaggerated".
The upfront cost of the reorganisation is projected to be between £600m and £900m.
And the Institute for Government think tank has warned the government could end up incurring extra costs if it went about the process in a "slash and burn" fashion.
"If the figures do stand up to scrutiny and there has been no decrease in government performance in services, this is a good thing but the reliability of the savings claimed is questionable," the organisation's programme director Tom Gash said.
The Taxpayers' Alliance, which campaigns for better value for money from public spending, said the abolition of "unnecessary and costly" quangos was welcome.
"But there is plenty more to do in terms of cracking down on the quango state," said the organisation's chief executive Matthew Sinclair.
"So not only must Francis Maude keep these unaccountable bodies in his sights, but also ensure that any savings made by their abolition or downsizing are not frittered away by others in Whitehall."