Galloway 'clarifies' rape comments amid growing storm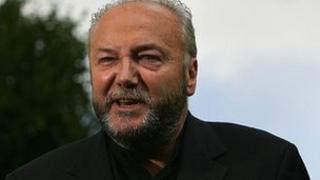 George Galloway has insisted he regards non-consensual sex as rape but says he stands by controversial comments made about sex assault allegations facing Wikileaks founder Julian Assange.
The Respect MP was widely criticised after speculating Mr Assange was guilty merely of "bad sexual etiquette".
The leader of his own party said his views were "deeply disappointing".
Mr Galloway said "no never means yes" but the Assange allegations were "not rape as most people understand it".
Wikileaks founder Mr Assange has denied allegations of assault made by two women in Sweden in 2010, arguing both agreed to have sex with him.
'Set-up'
In a podcast on Monday, Mr Galloway, MP for Bradford West, created a storm by suggesting that one of the women concerned had consensual sex with Mr Assange and then "woke up to him having sex with her again" - arguing that this did not constitute rape.
"Not everybody needs to be asked prior to each insertion," he said.
He added: "It might be really bad manners not to have tapped her on the shoulder and said, 'do you mind if I do it again?' It might be...bad sexual etiquette, but whatever else it is, it is not rape or you bankrupt the term rape of all meaning."
Mr Galloway, who is travelling in Indonesia, has not responded to BBC requests for an interview but he issued a statement on Tuesday, saying he was "happy to clarify" his remarks.
"No never means yes and non-consensual sex is rape. There's no doubt about it and that has always been my position," he said.
But he added the Assange case had "all the hallmarks of a set-up".
"I don't believe, from what we know, that the Director of Public Prosecutions would sanction a prosecution in Britain," he added.
"What occurred is not rape as most people understand it. And it's important to note that the two women involved did not initially claim it."
The statement came after Mr Galloway, who returned to Parliament in March following a by-election, came under fire from within his own party and elsewhere.
'Irresponsible'
Salma Yaqoob, Respect Party leader, said that while there were "political issues" around the Assange case, this should not "diminish" the serious nature of the allegations against him.
"Let me be clear, as a politician and as a woman, rape occurs when a woman has not consented to sex," she said in a statement on her website.
"George Galloway's comments on what constitutes rape are deeply disappointing and wrong."
She suggested the MP's intervention could undermine Mr Assange's defence against those "powerful forces keen to make an example of him for exposing the crimes of empire".
"It has certainly taken the debate around violence against women a step backwards," she added.
Jo Swinson, the Lib Dem MP who is an aide to deputy prime minister Nick Clegg, said it was "grossly irresponsible" to suggest that "sex without consent is anything other than rape".
"Mr Galloway should apologise and retract his comments immediately," she said.
"As a public figure, rather than obsessing on conspiracy theories he should be sending a very clear signal to any victim of sexual violence that sex without consent is always rape."
Legal position
Labour's Bridget Phillipson said the comments were "dreadful" while Conservative Louise Mensch said it was "so ironic" that he represented a party called Respect.
And campaigners for justice for rape victims said the MP's understanding of what constituted rape appeared to be "factually incorrect".
Rape Crisis said the law was clear that if the woman was asleep when a sexual encounter began, consent cannot "reasonably" have been given and having had sex before did not give a man the right to have sex again at any time and assume consent.
Mr Assange is currently holed up in the Ecuadorian embassy in London after the UK said he could not be allowed to take up the country's offer of asylum and he must be extradited to Sweden.
Mr Galloway has claimed Mr Assange's "only crime" was exposing wrongdoing by the US and other countries through the unauthorised publication of leaked diplomatic cables and correspondence.
And former British diplomat Craig Murray has also defended Mr Assange, telling the BBC that the "dubious" allegations were a result of a "political agenda" against him.